Like many Northwest cities, Spokane's craft brewery scene has boomed in recent years. While the boom continues and new breweries pop up regularly, the first – No-Li Brewhouse – set up shop in 1993! If you're looking to enjoy a local brew, rest assured you have plenty of places to choose from, but here are some of the best.
No-Li Brewhouse
No-Li is Spokane's biggest brewery in terms of production, and visiting its location southeast of Gonzaga University on Trent Avenue is a must.
The family-friendly brew pub has a large indoor seating area and bar — exposed beams, wood barrels and the like are used for décor. But when it's warm out, outside on the patio is the place to be. Adirondack chairs overlook the Spokane River, red umbrellas shade diners at standing tables and cornhole players compete off to the side.
You can grab drinks at the inside bar or pick from a limited selection of beers at the outdoor "juice bar." Some of No-Li's most famous beers are the Born & Raised IPA, Big Juicy IPA and Wrecking Ball imperial stout. The brewery also has huckleberry and cherry hard seltzers, and it recently announced the new Jet Juiced IPA brewed with mango.
If you're stopping in to eat too, make sure to try to the "epic pretzel" with beer cheese to start. From there, you can't go wrong with any of the burgers.
Steam Plant Brewing Co.
Transformed from a working steam plant that operated for most of the 1900s in the heart of downtown, The Steam Plant Kitchen & Brewery sits under the catwalks and smoke stacks of the original building. After your drinks, you'll want to walk around for a tour.
Pick from about a dozen permanent and seasonal house beers at the family-friendly restaurant or the lower level bar. The Cutter's Pale is smooth drinking, but you can spice it up with a jalapeno ale or go fruity with a sour.
For food, the menu covers everything from pizza and handhelds to seafood and barbecue.
Iron Goat Brewing
Riverfront Park's metal, trash-eating goat is this brewery's mascot, but what comes out of the bottles at Iron Goat Brewing's kid-friendly downtown tap house is anything but garbage. Try the specialty beers, like experimental pale ale, and brut IPAs, or opt for one of the mainstays. The Impaler Imperial IPA, Head Butt IPA and Goatmeal Stout are the ones you might have seen in a local grocery store, but make sure to try the Brick & Steel IPA and Paul's Pale Ale.
For food, pick from an eclectic menu of pizza, sandwiches, cheese boards and Asian-inspired rice bowls. And check out the brewery Facebook page for updates on events like trivia nights and live music.
River City Brewing
Just around the corner from Iron Goat Brewing, River City Brewing is known for participating in First Friday festivities by throwing all-ages garage parties at the brewery with live music. And after a year focusing on distribution and brewing operations, RCB reopened its tasting room in May 2019. RCB doesn't serve any food, but it does allow you to bring your own.
With beer as the focus of this taproom, choose from longtime favorites like the River City Red or the Riverkeeper IPA. Or, go for a seasonal beer, such as the Bloomsday Blonde or Kung Fu Death Monkey double IPA. Taste the Huckleberry if you can, too.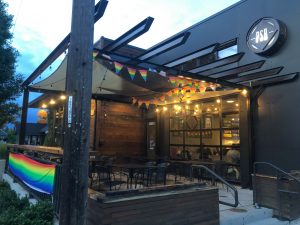 Perry Street Brewing
South Perry Street in Spokane's Perry District is a lively place to spend an afternoon or evening popping into different shops and restaurants. And, on the corner of 11th Avenue, be sure to drop in to Perry Street Brewing for a rotating selection of a dozen in-house beers.
The house IPA and German-style kolsch are a great place to start, but you can get more adventurous with Perry Street's creations like sextuple IPAs and fruity sours.
The brewery has family-friendly seating inside with board games, as well as a string-lit patio for warm summer nights. Plus, the food is excellent, too. Try the tacos or the local farm-to-table creations.
One Tree Cider House
Spokane's One Tree is brewing up something sweeter than beer: craft hard cider made with local ingredients.
The downtown cider house (21+ only) has 20 ciders on tap to choose from. Several are made in house and most of the rest are from the Pacific Northwest. If you know what you like, you can order a pint, but if you'd rather try a few things out, flights are available too.
Once you have your drinks, you can find a seat at a table, one of the couches, or a little nook carved out of the wall. There are many board games to play during your visit, but stop by on Mondays for trivia and Saturdays for live music. There's also waffle brunch the first Sunday of each month.
Dry Fly Distilling
So, this spot isn't brewing anything, but Dry Fly Distilling makes liquor using all local ingredients and it's tasting room is located in the same building as No-Li Brewhouse.
Sit at the bar and order a cocktail, or create a taster flight from selections of gin, vodka, whiskey and bourbon. You can sit at a table with friends, or chat up the bar tender before deciding to buy a bottle of your own. Plus, the distillery launched its own canned cocktails during summer 2019.