As the second largest city in Washington state, Spokane has no shortage of eateries, ranging from upscale to hole-in-the-wall. Whether you're looking for a meal with a view, a fine steak meal or some sushi, Spokane's restaurant scene has got you covered.
Clinkerdagger
No list of restaurants to try in Spokane could start without Clinkerdagger. It's the top place in Spokane for a meal with a view. The best seat in the house — weather permitting — is on the farthest deck overlooking the upper Spokane Falls. This is a great spot for celebrations, anniversaries or anyone just looking to treat themselves. The restaurant is famous for its rock salt roasted prime rib, filet mignon and other steaks, as well as a rotating menu of seafood, with entrees like lobster, ahi tuna and scallops. For dessert, try the burnt cream, bread pudding or a chocolate martini.
Clinkerdagger opened more than 45 years ago when the Flour Mill on West Mallon Avenue was converted into retail shopping for Expo '74 and a space was carved for the now-renowned restaurant. If you have time before or after your meal, other tenants of the Flour Mill include a gift shop, jeweler, cooking store, spa services and chocolate apothecary. Additionally, the next restaurant on this list, Queen of Sheba, is just around the corner.
Queen of Sheba
If you Google Ethiopian food in Spokane, you'll only find one result: Queen of Sheba. The unique restaurant has been serving up authentic Ethiopian cuisine since it opened in 2010 at the Flour Mill. Queen of Sheba's owner, Almaz, is from Ethiopia and dreamed of opening her own restaurant, according to its website. Appetizers included meat-filled pastries, spicy chickpeas and sweet potato fries with Ethiopian spices. Main courses are served on a communal platter with flat bread (called injera) that you tear off and roll your meat or vegan entrée into. For dessert, try the baklava or vegan-friendly Queen Dibor's Pani Popo, which is bread with a coconut sauce.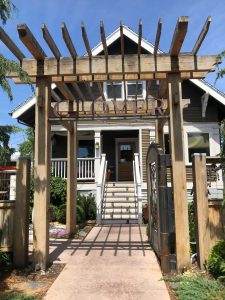 Clover
Walking through the Logan neighborhood surrounding Gonzaga University, it's a surprise to see well-to-do diners sipping wine on the patio of a renovated craftsman home. But since 2012, Clover has been making a name for itself as one of the best restaurants in Spokane's dining scene. This is the perfect place for an intimate and unique dining experience, as eating in this house mimics the feeling of eating a delicious meal — that you probably never would have prepared yourself — at home.
The restaurant unveils a new menu each season with plates comprised of as many local ingredients as possible. When checking out the options, expect to find artistic takes on chicken and lamb, as well as classically prepared dishes of steak and seafood. For the current menu, visit Clover's website.
Churchill's
Up there with Clinkerdagger as two of the top names in local fine dining, Churchill's is the prime spot in town to grab the best steak you've ever had. Prices on dry-aged steak range from $36 for a 10 oz. top sirloin to $67 for a 16 oz. bone-in tenderloin. For a meal on the cheaper side, head to the basement bar on Wednesdays for a burger, but get there early for the popular special. Churchill's also serves chicken and other meats, as well as seafood. The restaurant's accolades for fine dining include recognition from DiRoNA and first place in the Inlander's Best of 2019 reader's poll.
To try and replicate the perfection of Churchill's chefs, you can order beef from the restaurant and use its online guide to steak.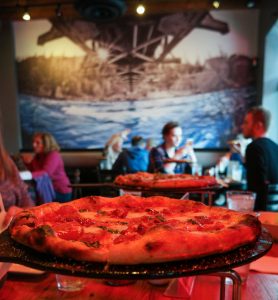 The Flying Goat
Walk into The Flying Goat and you'll be greeted by a glowing metal goat head above the bar and the aroma of Neapolitan style pizza. Down Northwest Boulevard in the Audubon Neighborhood, this pizza parlor is famous for its charred crust and creative combinations of pizza toppings. One of the most unique is the "D" Street, with yellow coconut curry, chicken and jalapeno. The Lacrosse — with Italian sausage, red pepper preserves and pecorino — is a great option for the less adventurous. And don't forget about the rotating selection of craft beers, which were one of the original motivations for opening the restaurant. The menu includes popular beers from local breweries, as well as many selections from California, Oregon and Colorado.
Umi Sushi
Sushi is a competitive restaurant category in Spokane, probably deserving a list of must-trys of its own. But since the late spring of 2018, Umi Kitchen and Sushi Bar, is a wonderful, relative newcomer to the scene. Located on the main strip of the Kendall Yards neighborhood, the restaurant is in a vibrant area of town with many other eateries and shops. For those 21 and up, Umi has a downstairs lounge that serves the full menu overlooking the Spokane River and downtown.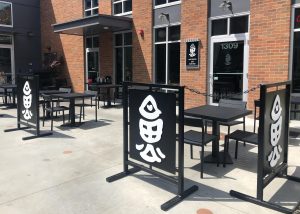 To start your meal, order the crab and cheese wantons or a John Taco, a lettuce boat filled with spicy tuna, avocado, crab and other sushi toppings. For sushi rolls, you have to try the fried California roll drizzled with eel sauce and spicy mayo. Some other favorites are the rainbow roll, California roll with different fish and avocado, and the Spokane roll, which has spicy tuna and avocado, plus jalapeno, spicy mayo and tobiko.
The menu also includes Bento Boxes and entrees like fried rice, curry and teriyaki chicken.
Tomato Street
With two locations in Spokane and one in Coeur d'Alene, Tomato Street is a favorite across the Inland Northwest with a wide-ranging menu of Italian food. The restaurant can please any craving with options ranging from pizza and calzones to classic pastas and salads. For something really hearty, try the baked lazonni — lasagna wrapped in pizza dough and fired in the brick oven, then covered in your choice of sauce.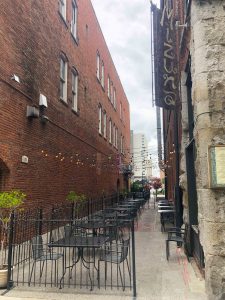 Mizuna
Mizuna is one of downtown Spokane's most well-known, upscale restaurants, plus it has vegan, vegetarian and gluten-free options. From the grill, try a range of food from land and sea, like a New York strip or the sea scallops. Rather than turning meatless diners to the salad section, Mizuna has entrees like curry eggplant fritters, Gorgonzola polenta and cashew crusted avocado, which can all be made vegan-friendly. Within walking distance of many of downtown's attractions, this a great spot to start before a special night on the town. For seating, head inside and dine under high exposed-brick ceilings, or try the string-lit patio nestled in the alleyway.