With the establishment of every great city comes the creation of vital community infrastructures to serve those who call it home. Naturally, our beloved city of Spokane got to work right away after its founding in 1873 — necessary buildings were erected, and city essentials were created to meet the need of the masses.
Of those creations were Spokane Public Library and Canopy Credit Union, both of which have been serving the community for decades now, with the library being a resource for all those in search of knowledge since 1891 and the credit union serving the financial needs of the city's residents since 1956. During these years of stellar community service, they have worked separately as individual resources. Recently, Canopy Credit Union and the Spokane Public Library have come together to form a powerful duo that's now bringing aid to those in need, one Canopy Care Kit at a time.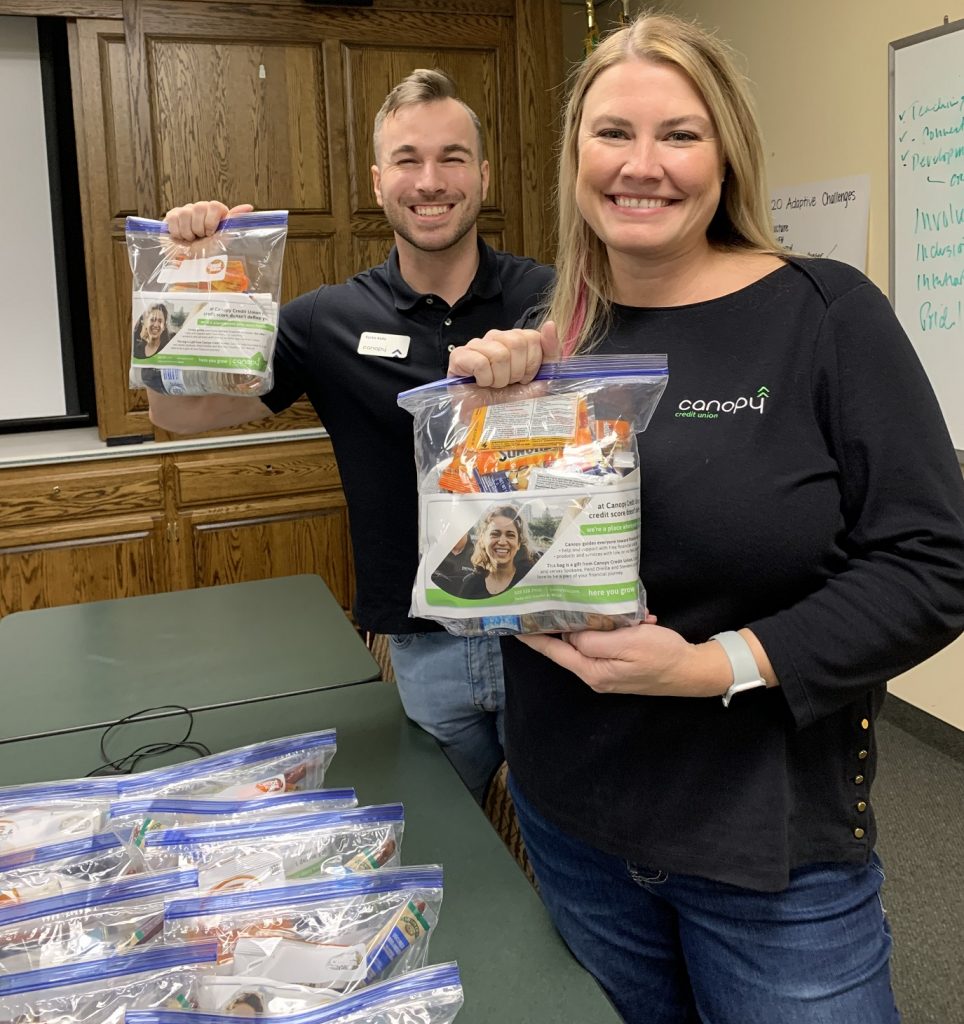 A Partnership with Canopy Credit Union and Spokane Library
The partnership emerged after the Spokane Public Library's downtown central location reopened after being closed for two years for extensive remodeling. New roles and systems debuted with the library's new look. Stepping into the position of Social Services Manager is Bethiah Streeter, a National Association of Social Workers member who has been doing such work for about 20 years now.
She greeted her new role with grace and passion, immediately getting to work on identifying the needs of the library itself and of the community it serves. "I'm a broker for resources," said Bethiah as she explained that in her position, she helps people connect to the appropriate resources.
Simultaneously, the library was becoming a place where community members could find suitable resources as the new partnerships she formed created a colorful calendar of events available to the public. One of those partnerships was with the helpful staff at Canopy Credit Union.
Canopy Credit Union Cares
Megan Shover, vice president of culture and marketing at Canopy, met Bethiah with equal passion. In 2018, Canopy became a certified Community Development Financial Institution by the U.S. Department of Treasury, giving them access to federal grants they could use to reinvest in the community. With a rebranding the following year, the credit union was invigorated, sparking a refocus on their mission and vision as they asked themselves who they wanted to serve and how they wanted to be known within the community.
The answer was simple. The goal had always been to help people, something that has never changed. However, now Canopy moved intentionally toward reaching those who may not have traditional access to financial services, those with no credit, never had a financial account before and were limited to the type of financial institution they could use, or those looking to get out of debt. No matter what financial troubles members faced, the credit union wanted to be there to help.
"Canopy wants to be known as a place where your story matters," said Megan, "It's a place where everyone truly is more than just a credit score."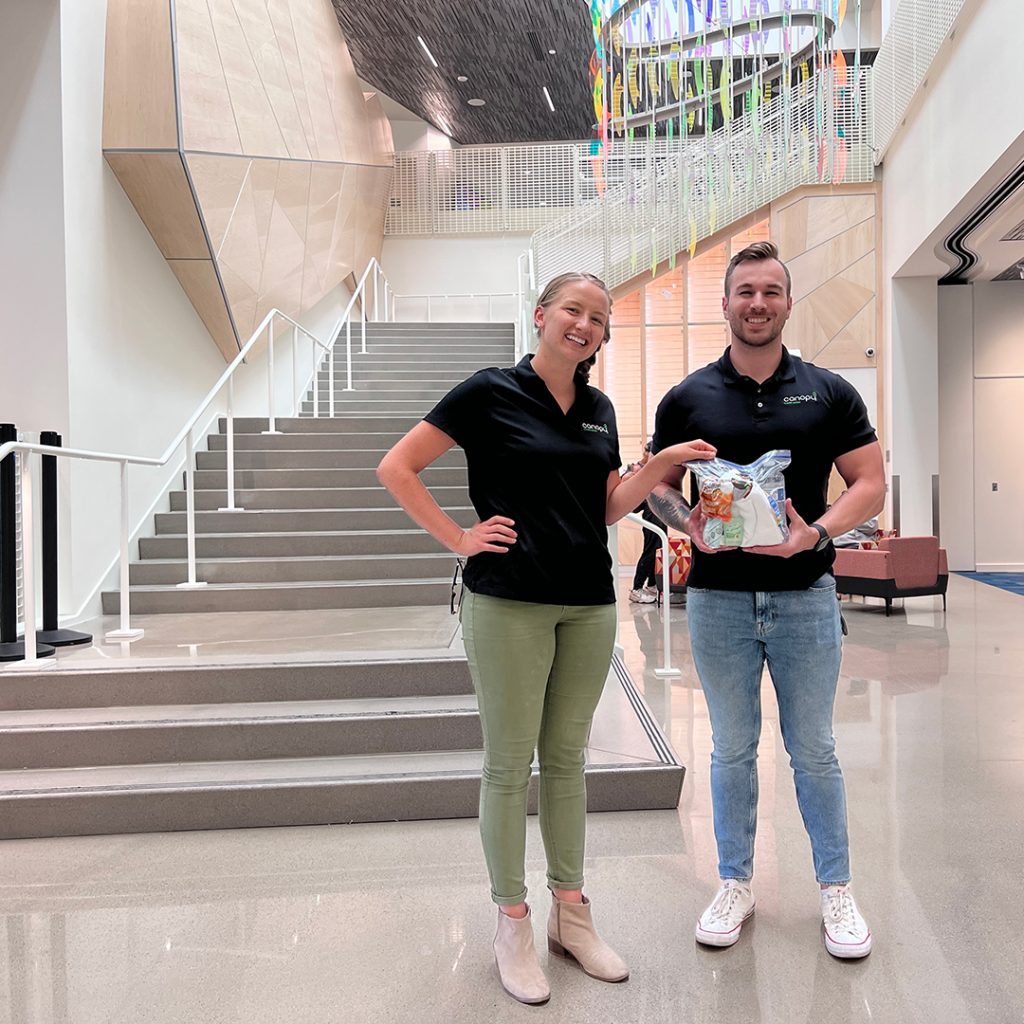 A Growing Need in Spokane
Bethiah noticed an emerging need that became more frequent. With the rise in houselessness, the library saw more and more of those that experienced this plight often stopping by and seeking the type of help that couldn't be taken care of quickly with a connection to resources.
For five consecutive years, there has been an overall increase in the homeless population within the city. According to data from the current point-in-time count from Spokane's Neighborhood, Housing, and Human Services Department, 1,757 people are currently experiencing homelessness in Spokane County. From that total, 934 people were sheltered, while 823 were unsheltered. The number of those unsheltered has increased by 52% from the 2020 census.
"They would stop in asking for things like band-aids, or sometimes even just a drink of water when the temperature was high," said Bethiah, who started a conversation with Canopy about a possible solution for this growing need. "I reached out to Canopy Credit Union and asked if they would be interested in helping."
Without the budgeted dollars to provide essential items to patrons in need, Spokane Public Library leaned on Canopy Credit Union to fill the gap.
"We discovered that they didn't have the resources to help these individuals when they came through the door," said Megan, explaining how Canopy jumped at the opportunity to help further. "Naturally, we jumped at the chance to help, and that help came in the form of these Canopy Care Kits."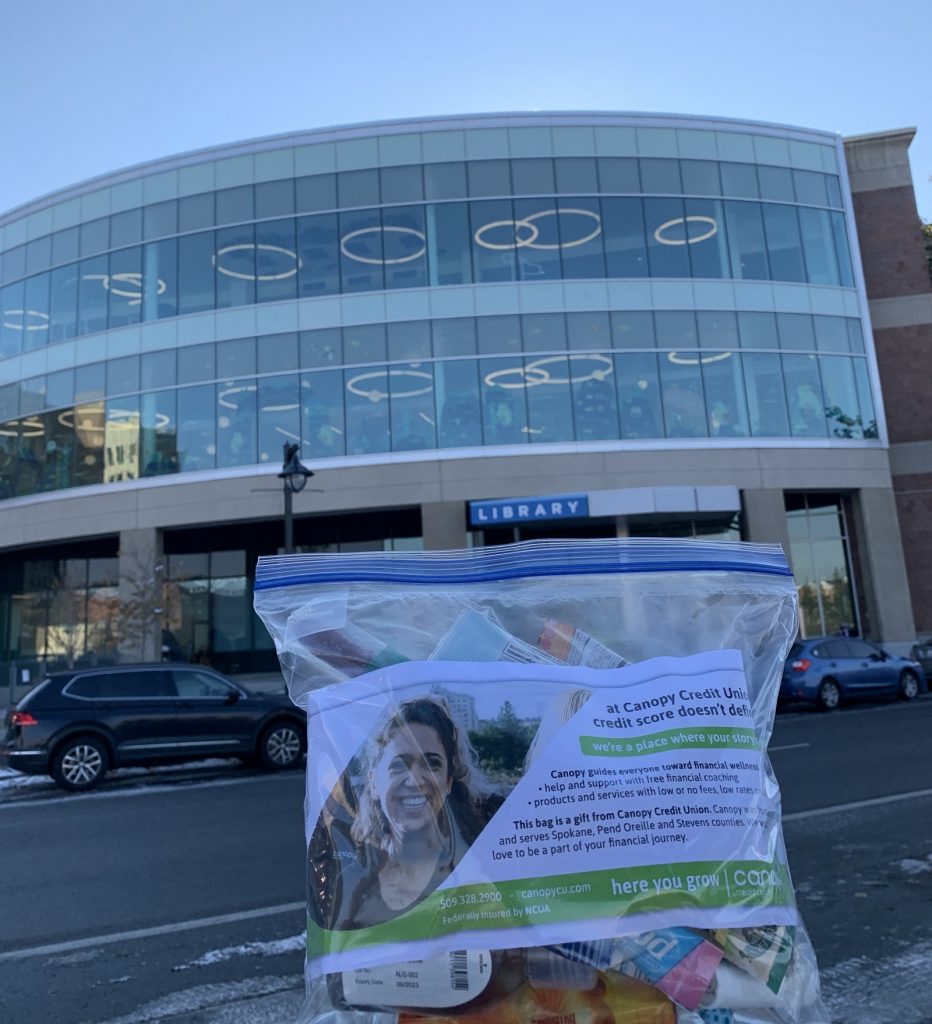 Help With Canopy Care Kits
Canopy Care Kits were created out of that growing need. These kits are care packages Canopy puts together and delivers to the library as needed, about 25 at a time. The kits contain vital essentials those struggling with being unhoused need, such as lip balm, socks, first aid materials, food, and water.
The kits include supplies fitting for the seasons, with winter kits including hand warmers, gloves, and hats, and summer kits containing sunscreen and hydration packets to protect against the heat. These kits are given freely by library staff to anyone in need walking through the library's welcoming doors.
"They're really going to help a lot of people," said Bethiah, "These care kits are going to have a little bit of everything, which is especially important when it comes to those changes in the seasons."
The kits aren't the only thing that will continue to help many people in the future.
The Spokane Public Library is just one of many local organizations that Canopy Credit Union is helping as it continues to work with non-profits in Spokane, along with frequent donations and sponsorships to agencies serving those in need.
Likewise, Canopy Credit Union is just one of many partnerships the Spokane Public Library has amassed as it continues to be a beacon for resources within the city. They've already partnered with other organizations to provide the public with more resources, such as space science for kids, peer programs, health care seminars, and more, all found on the library's calendar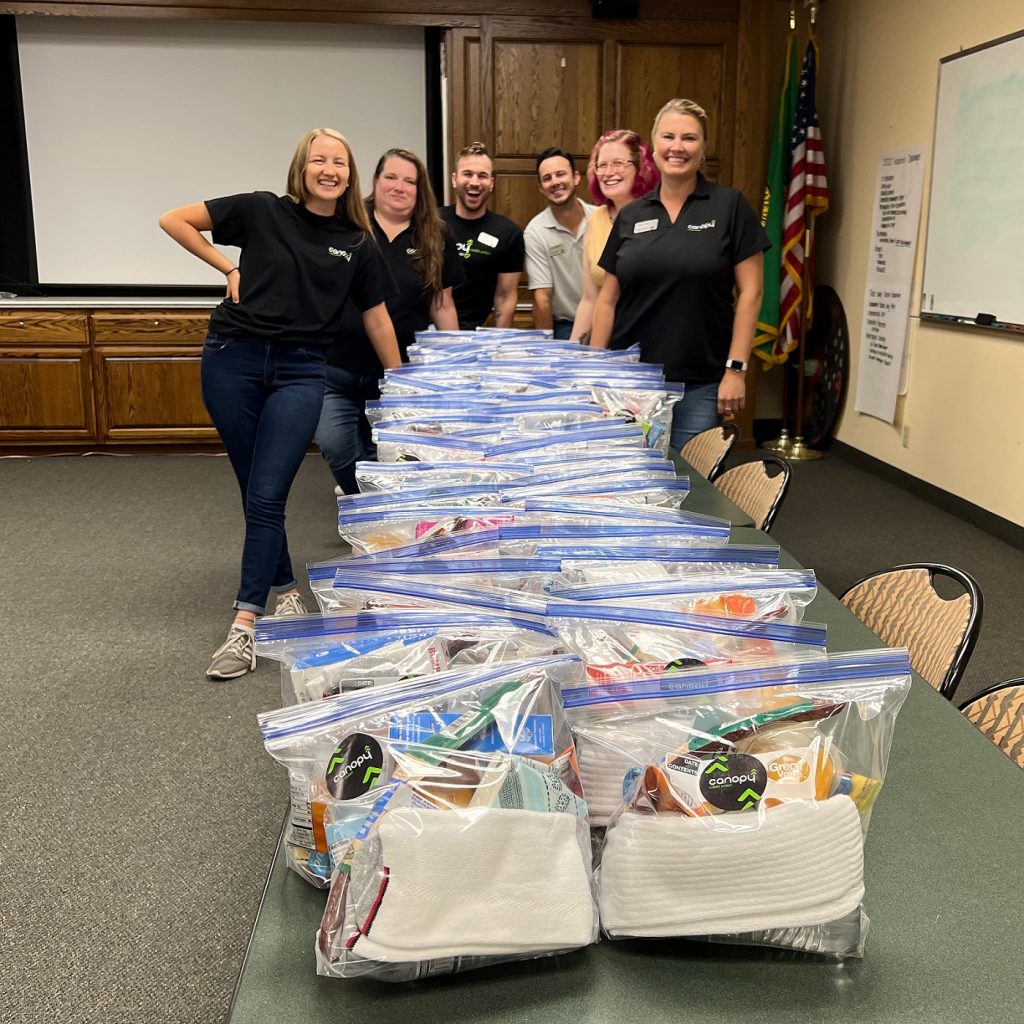 Together and on their own, Canopy Credit Union and Spokane Public Library are improving the quality of life for those living in Spokane. Canopy Credit Union's focus is guiding its members toward financial wellness with programs like free financial coaching to help understand credit scores and budgeting. The library is a community center which works to connect its resources with the community through its social services programs.
Its partnerships, like the mission-driven Canopy Credit Union and Spokane Public Library that create lasting and impactful change in the community.
Visit Canopy Credit Union for more information about their services. To learn more about the library's programs, events, and more, go to the Spokane Public Library's website.
Sponsored