While Black Friday and Cyber Monday promotions dominate the airwaves and social media, there is another event that provides shoppers a chance to find wonderful gift items and contribute to the lifeblood of their community as well.
That is Small Business Saturday — which in 2022 takes place on November 26. The event offers consumers a chance to support area businesses where, according to credit card giant American Express, 67 cents of every $1 spent stays within the community.
Small Business Saturday is also an event the Spokane County Library District (SCLD) has supported and helped expand for seven years.
"It makes a good retail day even better," Stacey Goddard, SCLD Public Services Manager, said. "We've heard that from participants in the past."
Small Business Saturday Begins
According to information from the Small Business Association's Office of Advocacy, over 30.7 million small businesses are in the United States. Those businesses account for 1.5 million jobs and about 44% of the country's economic activity annually.
Yet, small businesses often struggle for various reasons — including competition from larger stores and visibility. According to the SBA, 50% of small businesses fail within the first 12 months of startup, contributing to a 50% decline in new business creation over the past 30 years.
Many small businesses cite a lack of capital to help with marketing as one reason their companies don't succeed. Recognizing this need for exposure, especially during the holiday season, American Express created the first Small Business Saturday on November 27, 2010.
Besides national TV and radio promotion, American Express purchased advertising inventory on Facebook and then gave that to small merchant account holders to use along with rebates to new customers to promote November 27. According to Farm Bureau Financial Services, Small Business Saturday became official in 2011 "when Washington State mayors, governors, senators and President Obama shared their support."
In 2012 American Express increased the exposure for small businesses, helping lead to $5.5 billion spent during the promotion nationwide. In 2013, communities began offering their local support to the campaign. By 2015, more than 95 million people nationally were shopping at small businesses on the last Saturday of November, an increase of 8% from 2014, helping to generate $16.2 billion in sales. After slight decreases in 2016 and 2017, national sales rose to $17.8 billion in 2018.
Spokane County Library District Supports Small Businesses
In 2016, a district librarian approached Goddard with the idea of getting involved in Small Business Saturday. Goddard said they read about other libraries around the nation lending their support and felt it would be a worthy program to try.
Goddard said the district wanted to target its support to businesses in the county's smaller communities since these cities and towns have fewer financial resources and workforce to promote small businesses. They selected Cheney as the pilot branch for the promotion since the West Plains-area city relies a lot on small businesses, has a centralized downtown area and is very supportive of its library.
Nine Cheney businesses took part in that first "Shop Small" Saturday, and Goddard said the promotion was "very well received" by the community. The district expanded the event in 2017 to branches in Medical Lake, Airway Heights and Moran Prairie.
"Small businesses were excited to get that extra promotion thrown their way, especially with the emphasis on Black Friday," Goddard said.
The district's Small Business Saturday/Shop Small has grown each year. This year, there are 55 businesses taking part as of November 7, with 20 of those in Cheney.
And while Airway Heights and Moran Prairie are no longer involved, this year's event includes branches in Deer Park — which has ten businesses participating — and Argonne in Millwood in Spokane Valley. The event is also being promoted by the West Plains Chamber of Commerce and the Deer Park Chamber of Commerce.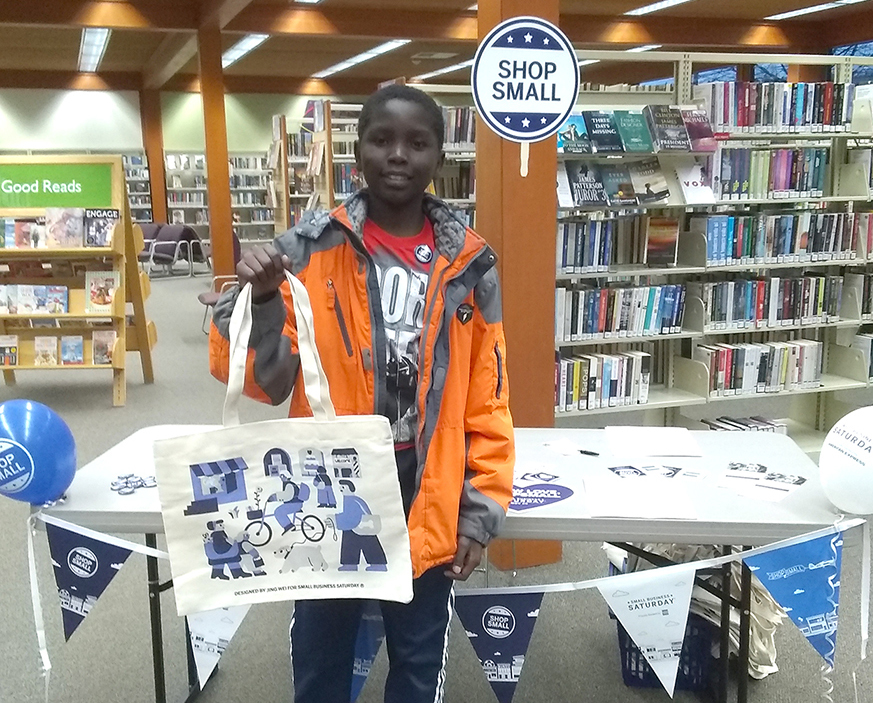 SCLD Small Business Saturday Prizes
Part of SCLD's Small Business Saturday promotion involves getting customers to visit as many participating businesses as possible. Goddard said they held a scavenger hunt the first year, with participants going to businesses to get the answers to questions on a card, which was turned in for a prize once completed.
That evolved into a Bingo game contest, also for prizes. Customers have participated in a "Shop Small Passport" challenge for the last couple of years.
To enter, customers visit any of the four participating branches beginning November 14 to pick up their Shop Small passport along with a list of participating businesses and some Small Business Saturday "swag," like canvas shopping bags. Then from November 26 to December 3 — the promotion has been expanded to a week — customers visit participating businesses to pick up a stamp for their passport.
Once the passport is complete, return it to the library branch by 6 p.m. December 3 to be eligible for a drawing to win one of eight $50 gift certificates. Two prize winners per each of the four branches will be drawn, with the winners notified by December 10. The winners will select the participating business where they want to use their gift certificate.
Shop Small prizes are sponsored by the local Friends of the Library in Cheney, Medical Lake, Deer Park and Millwood, along with the American Library Association's Libraries Build Business initiative. The initiative started in 2020, is a $2 million effort to support small businesses and entrepreneurs across the country.
Goddard is excited about the continued success of SCLD's Small Business Saturday and its emphasis on supporting smaller business communities in the county. While shopping at any local small business is a good way of keeping dollars home, she encourages shoppers to get out and support small businesses throughout the county — especially areas they may not have thought about visiting in the past.
"Taking a trip to another part of the county is another fun thing to do," Goddard added.