Early discussions entertained a more easterly route for a bigger, more direct highway through southern Thurston County. Such a direction would have meant a different scene today. The presence, or absence, of main roadways throughout the county, has dictated the fate of whole towns and individual businesses. Some grew or disappeared completely because of the path a road took or ceased to take. Ken Balsley suggests taking a drive along Old Highway 99 to get a feel for its original path, and what a road trip or commute may have been like when there was not an alternate. A number of the places people often stopped along the way, in the 1930s, 40s or early 50s when there was no such thing as a six-lane interstate freeway option, can still be seen.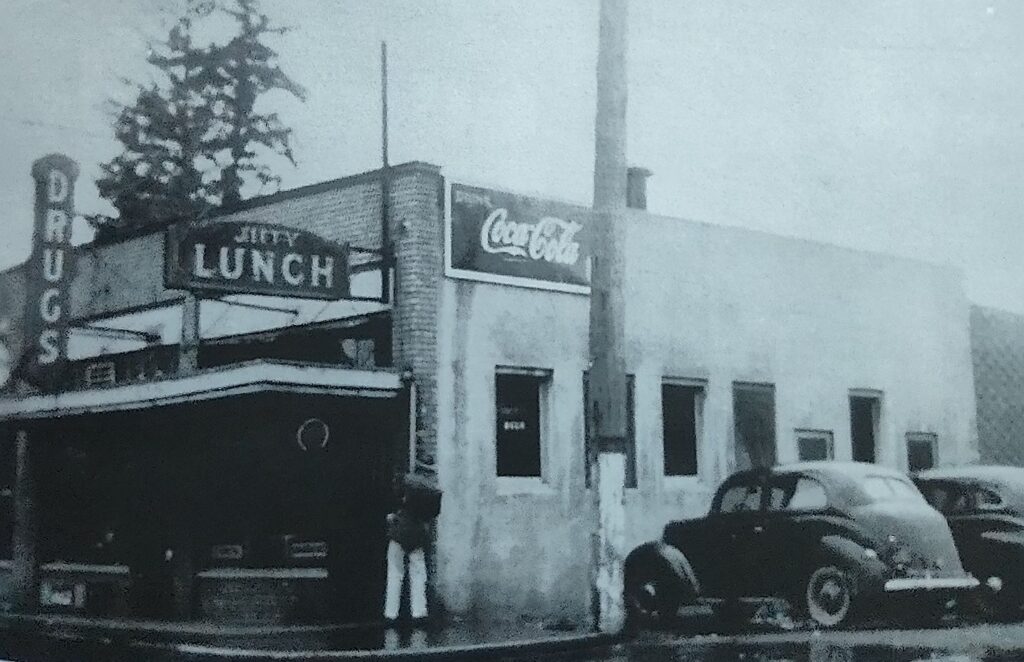 To start the journey, head northeast out of Grand Mound on State Route 507 toward Tenino. Just a few miles before entering the west side of Tenino, day trippers from Rochester or Grand Mound may have stopped at the Twin Gates Barbeque up until 1935. Or, for a day out picnicking, people may have stopped where the bridge is on the west side of Tenino to spend time at Scatter Creek Park where there were gas pumps, a store and cabins to rent. Those continuing on into Tenino for respite could have patronized the Jiffy Lunch Café located at 312 Sussex Avenue West. The building was divided lengthwise with the café's lunch counter running along one side of the space. During difficult times, patrons could pay for their meal at Jiffy's with Tenino's welfare program or wooden money.
Take Highway 99 on a northern trajectory out of Tenino to the next community called Plumb. Today, you won't see the railroad mail stop, the Plumb school or the community of homes that were there, but you will pass The French Café. The large, blue Victorian home at Waldrick Road and Highway 99 still stands as a landmark of roadhouse food and comfort. It began as the Oak Grove Tavern, started by Emerentienne Daigneault. Born in Quebec, she arrived in Plumb via Seattle and nearby Rainier after selling the farm. Daigneault and her daughter began the business offering food, lodging and fuel. After a 1931 fine for liquor possession, they renamed the venue The French Café and were known widely for wild blackberry pie, jams and jellies.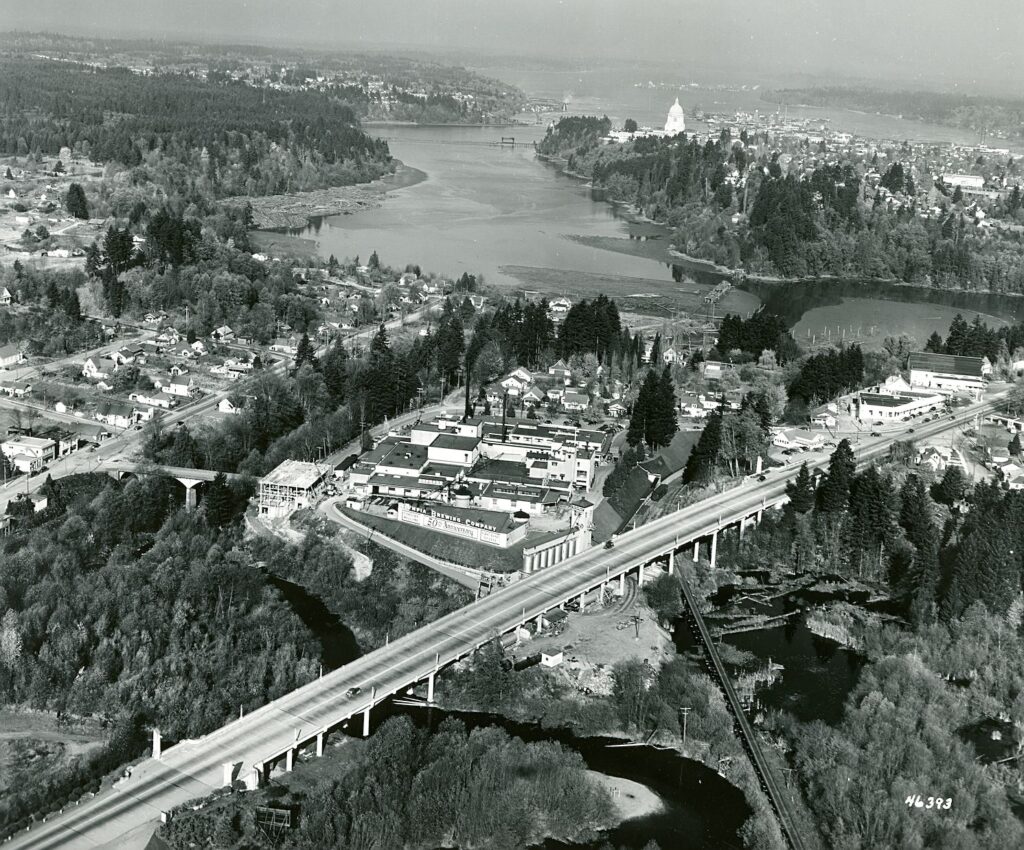 Continue north on 99 toward Tumwater, past the airport. Earlier on, drivers would have followed a route along today's Deschutes Way to the Boston Street Bridge, to Custer Way and then east to Cleveland Avenue. Later, drivers were spared the narrow passage and tight turns after the Carlyon Bridge was built in the mid-1930s, providing a more direct path. Drivers would have passed The Olympia Brewing Company, back in production after prohibition's end in 1933. Nearby Tumwater Square at Cleveland Avenue and Custer Way provided an opportunity for fuel, groceries and goods.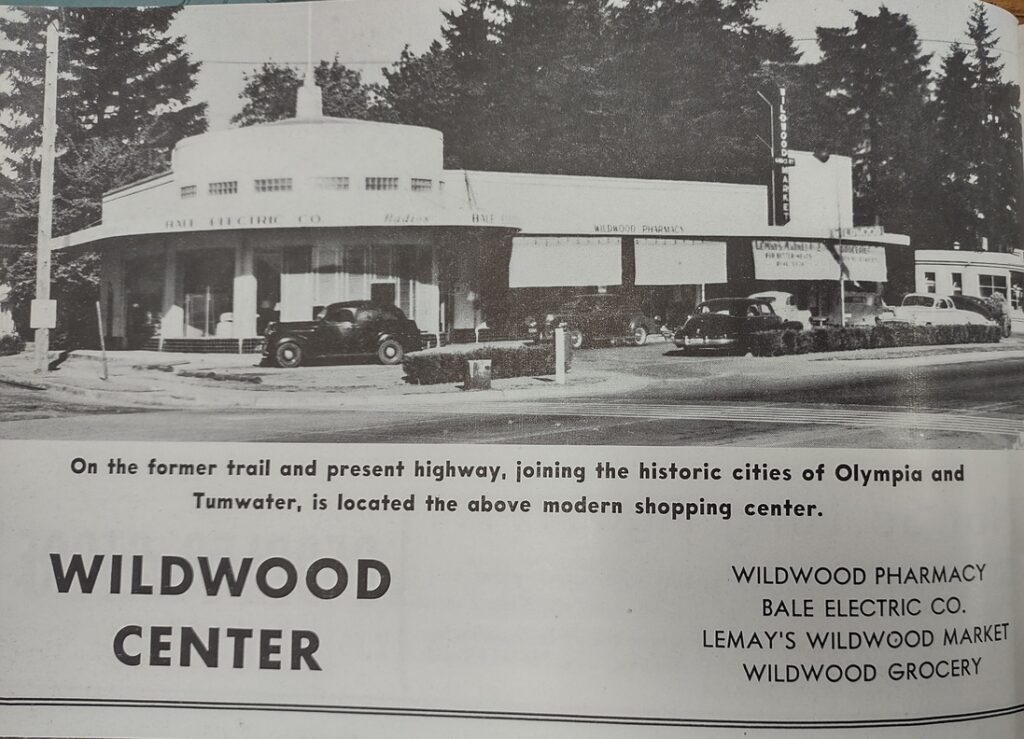 Just a few blocks north, Cleveland Avenue merged with Capitol Boulevard. The Wildwood Shopping Center, built in 1938 and the first of its kind in Olympia, served the adjacent Wildwood neighborhood with a market, pharmacy and flower shop. Capitol Boulevard continued to curve and head toward the capitol building, minus the high bridge crossing, down to a sharp right turn at Capitol Way onto Fourth Avenue. Every northbound driver from California and Oregon passing through the county made this turn. After reaching the end of Fourth Avenue, Pacific Avenue took travelers on toward Lacey, by Saint Martin's University, eventually crossing Hogum Bay Road, which is today's Marvin Road, and a roundabout according to the 1929 Metzger Map. After about a mile, people may have stopped for a Friday or Saturday evening of fun and dancing at the Evergreen Ballroom, which once stood on the east side of the road just before where the Chevron station is today.
Eventually, Martin Way was constructed, creating a wider and straighter path from south to north. Travelers would continue out of Lacey on Martin Way through Hawks Prairie. The long hill on Martin Way leveled out to a straight paved road down into the Nisqually Bottoms before crossing the Nisqually River. If today's travelers take the Nisqually Cut Off Road near Schilter Farm in Nisqually, they will see that the first concrete bridge, dated 1936 and slightly askew of the modern road, is directly aligned with the northbound freeway bridge.
In the end, though some people were glad that the new freeway was going to bypass their town, some may not have been. "From the motoring public's point of view, the most welcome improvement in the relocation of Highway 99 between Tumwater and Vancouver is the bypassing of such towns as Tenino," and others, says the News Tribune article, "Bypassed, But Happy" of February 7, 1956. "Some businesses catering to transient motorists have suffered, but there has been compensating gain in other lines. And if civic pride suffered a jolt, the common sense view now prevails that relief from congestion caused by through traffic was worth obtaining at any price."
The decision of where to lay the new highway's path was bound to change life in the county no matter where they put it.