The history of Spokane and Gonzaga University go hand in hand, unfolding together during the city's formative years. As with the creation of any new city, a good foundation was needed to ensure the city's future. That meant having the basics such as a post office, train depot, city hall, and places to further one's education. Founders got to work right away ensuring the creation of a college for the young Spokane and enlisted the help of Father Joseph Cataldo, S.J., to build such an infrastructure, and so began the story of the iconic Gonzaga University.
Father Castaldo, a Jesuit Superior, was already way ahead of those who enlisted his help. His ministries already focused on educating tribes of Native Americans who lived in the region and were already working on building a school for the tribes they were serving, looking around Spokane Falls, as it was referred to back then. In October of 1881, his ministry had already purchased 320 acres from the Northern Pacific Railroad for $936, securing a plot of land along the north bank of the Spokane River. After this purchase, the early settlers wrote to Father Cataldo, asking him to build them a college that would attract students from all parts of the west, even as far away as California.
It was then that the founders stepped in with James Glover, sometimes called the Father of Spokane, gathered 15 other founders and sent Cataldo another letter, this one filled with promise. Within the pages, Glover pledged $2,650 to help build a college, detailing that they wanted it made of brick or stone and to be no less than 40 feet wide, 80 feet long, and three stories high. Even the bishop for the Washington Territory weighed in on the situation by this point, urging Cataldo to build a college in the Spokane Falls territory.
And so it began. By October of 1883, a stone foundation was laid out for a brick building that would measure even more than initially suggested, with the building measuring 100 feet long and 50 feet wide. Other upgrades were also made as the construction process carried on, with a basement being added, along with living quarters for students, a kitchen and dining room, a library, a chapel, and living quarters for the Jesuits.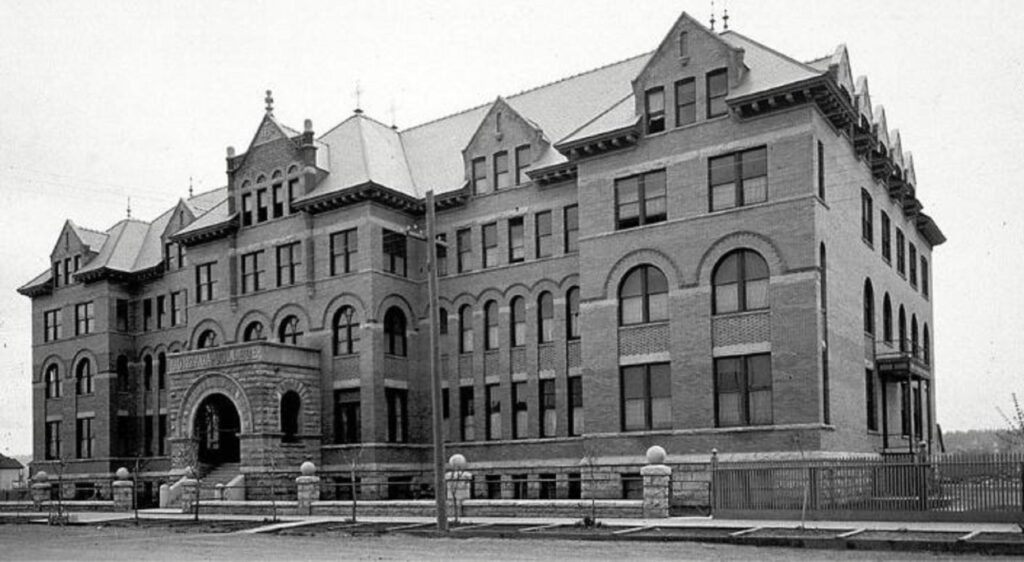 Of course, along with the extra additions also came the addition of more time. The college wasn't completed until four years later, in 1887. By that time, townsfolk were more than eager to get things moving. During the summer of that year, citizens began to move in, starting with the Jesuit faculty arriving while the building was being landscaped. Father Cataldo was one of the first of three other Jesuits to live on the campus, along with the school's first president Father James Rebmann, three other priests, six brothers, and four scholastics, or seminarians as they were also sometimes called.
Soon it was fall, and with the changing of the seasons, students returned to the classrooms as usual, but it was the first time for Gonzaga University or Gonzaga College as it was first referred to. The doors opened on September 17, 1887, welcoming seven students in total. It may have been a small start, but enrollment quickly grew. By the turn of the century, there were 244 students and 24 faculty and staff members on the grounds. Classical and Commercial Course Studies were the first to be offered, with Classical studies including Philosophy, Rhetoric, Poetry, and Humanities and Commercial Course studies focusing on essential business management skills.
For the next two decades, the college experienced steady growth, development, and good things all around. The present St. Aloysius Church, then located on the edge of the campus, was dedicated in 1911. The following year, Gonzaga itself was granted legal status as a university by the Washington State Legislature. It was also during this same year, 1912, that Gonzaga's School of Law first opened its doors.
It was then that things really took off for the young Gonzaga University. It quickly continued to expand, and another school was added in 1921, known as the School of Economics and Business, which reflected the spirit of the times. Also reflecting a national trend toward more standardized educational criteria, classes in education were added to the college's curriculum. Soon after, summer courses for teachers began in 1924 and later, in 1928, the Board of Trustees established a School of Education. Two decades later, in 1948, Gonzaga's freshman class would include women for the first time ever in the college's history. Extra housing was built just for women in preparation for the milestone. Gonzaga's new status as a coed university would attract students from all across the United States.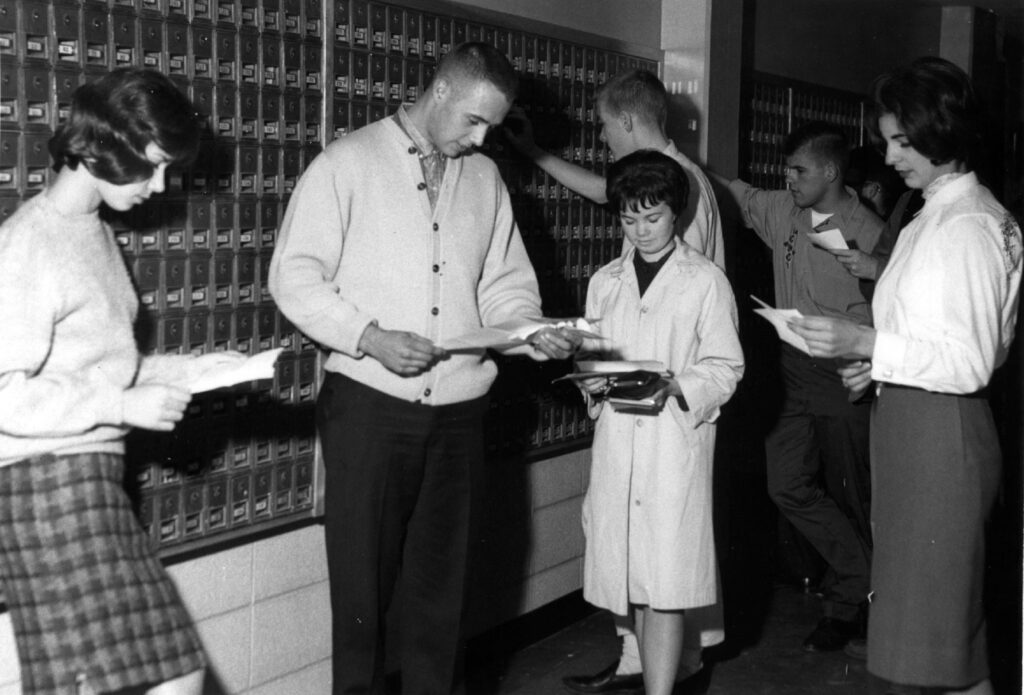 Today, Gonzaga University looks a lot different than it did during its humble beginnings back in 1887. The totality of the campus itself has grown to include 105 buildings on 131 acres, but that's not the only thing that's grown. The once small student body that started it all of only seven boys blossomed into an enrollment of about 8,000 in a coed environment, and the once 17 staff of Jesuits has grown to over 1,200 educators of diverse backgrounds and beliefs.
A School of Nursing, a School for Leadership Studies, a Masters in Business, and a Doctorate in Educational Leadership have all been added to the curriculum over the years, further enhancing the University's academic programs. Other notable additions to Gonzaga include a $20 million state-of-the-art library, a Fine Art Center and Museum, the $23 million McCarthey Athletic Center and soon, a $50 million Performing Arts Center. And of course, their basketball team program has made a very famous name for itself.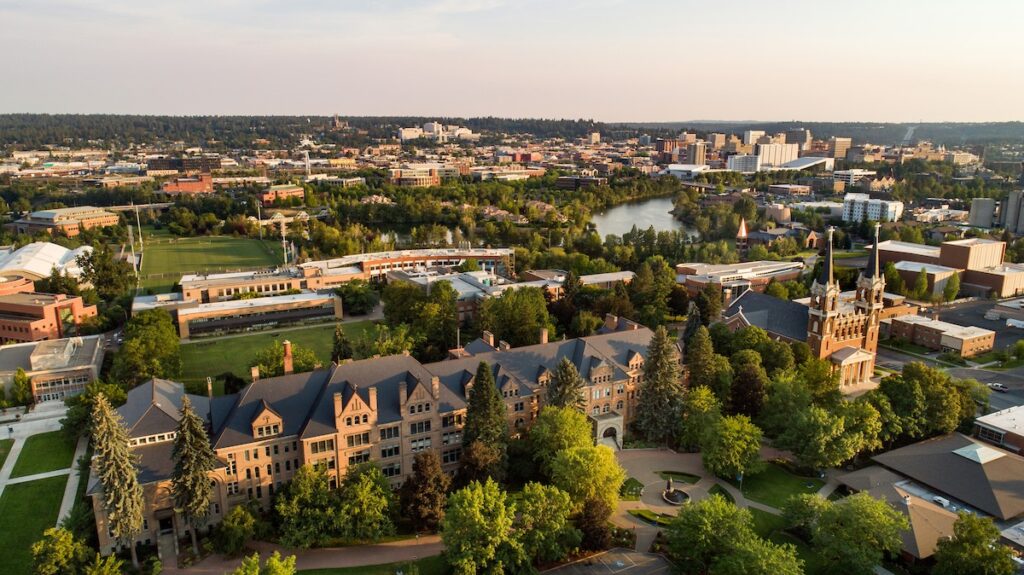 Yes, times have been good for the Spokane community's Gonzaga University, and it's changed a lot in the name of progress, but one thing has always remained the same. Through all these years and all these changes, the University itself has never lost its primary purpose as it continues to offer students a quality education just as it did all those years ago, teaching women and men the skills they need to help shape and transform the world today so that we all may have a better tomorrow.