One hundred and forty-eight years is a long time. That's how long ago it was since the city of Spokane was founded. Many interesting things can happen during such a lengthy period of time — trends come and go along with buildings and people. With so many years of considerable history comes tales of ghost stories and hauntings along the way, and Spokane has plenty of stories to tell this spooky season!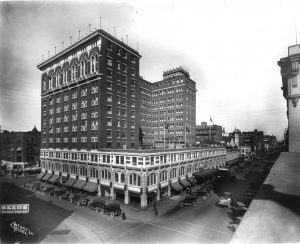 The Davenport Hotel and Tower
10 S Post Street
It's no surprise that the 405-room in the 1914 hotel known as Davenport made it onto the haunted list. In 1920 a young woman named Ellen McNamara fell through a skylight and plunged to her death. She's now often seen in 1920s garb peering over the railing towards the lobby down below. Of course, she's not the only spooky spirit on the block, seeing as how there have been numerous sightings of apparitions. One hotel worker even reported that on a windless night, he saw a heavy, glass-and-metal terrace door fly open all on its own.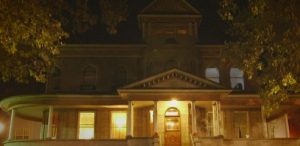 Monaghan Hall
Gonzaga University
Built in 1898, Monaghan Hall was originally a private mansion for pioneer James Monaghan before being sold to Gonzaga University in 1942 and turned into the university's Music Conservatory. It seems that the unusual activity in the mansion didn't pick up until it was converted into the music hall and most the notable began taking place in the 1970s. Fearful students started reporting ghostly footsteps and an unseen presence.
The Professor of Music at the time, Walter Leedale, reported a lot of the activity. What began as hearing a flutist melody being played throughout the house by an invisible musician eventually turned into a growling noise coming from the basement months later when there was nothing down there. Father Leedle and a group of others tried to do a more thorough investigation sometime later and came across an oppressive, hostile presence on the third floor. It became so violent that an exorcism was done in 1975, but it must have been unsuccessful since some students still feel uneasy in the building.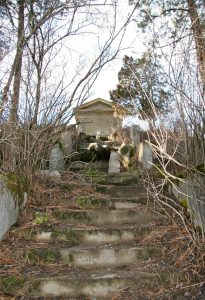 Greenwood Cemetery
211 N Government Way
Cemeteries are already spooky enough on their own, but what makes the Greenwood Cemetery in Spokane even more mysterious than all the rest is the legend behind it. This staircase, known as "the thousand steps," was initially built to lead down into the cemetery, but time marches on, and it has been a long time since they served this purpose.
Legend has it these days that nobody can make it to the top of these stairs because of the ghosts guarding the entrance that stop you. Of course, since the stairs have been sitting in decay for so long that it's no wonder it's so tricky to navigate. Still, visitors to the steps say it's almost as if the steps are broken apart on purpose as if the cemetery ripped itself apart at the stairs in an effort to ward off unwanted guests from entering.
Mirabeau Park Hotel
1100 N Sullivan Road
Numerous employees have been said to experience paranormal activity at the Mirabeau Park Hotel, with various ghosts on the premises. A woman and her two children are often seen in the hallways and tend to be a primary source of mischief in many guest rooms. On the third floor, a friendly ghost frequently asks housekeepers for towels and then disappears. It's said that a male guest died by suicide in one of the rooms close to the front desk, and now none of the housekeepers like to clean that room thanks to the eerie feeling it protrudes.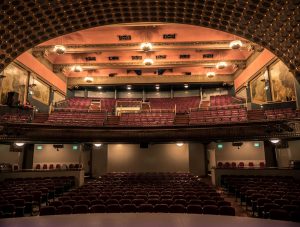 The Bing Crosby Theater
901 W Sprague Avenue
The 1915 Bing Crosby Theater is another one on the list with a long history of paranormal activity. Its believed that a former janitor haunts the place as well as a former stage manager that put in years of servitude at the theater until one night, he went to sit backstage to take a break on an ottoman where he suddenly died of a heart attack.
The most notorious of the theater ghosts is that of a female haunting the balcony. She and her young lover were to meet and run away together to Seattle, but when the gentlemen didn't show up, the heartbroken miss took her own life by throwing herself off the balcony.
Patsy Clark Mansion
2208 W 2nd Avenue
Even though the Patsy Clark Mansion isn't a site known for any tragedies, it is still believed to be haunted, nonetheless. These days it functions as a law firm, and attorneys who work in the building have reported hearing music playing as if one of the huge parties the mansion used to host in the past is going on. Some of the workers have even claimed to see the ghost of a woman dressed up for a party on the premises.
The rumors of hauntings on the property actually began around the time it was converted into a restaurant a few years prior. There were stories of three entities lurking within the basement's old wine cellar. They were said to be playful spirits with a reputation of making restaurant employees the victims of their creepy antics.
Spokane is full of spooky opportunities for ghost sightings and run-ins with the paranormal, not just during the Halloween season but all year long! Whether or not you believe in ghosts, these otherworldly Spokane hauntings prove lore is often rooted in real and disturbing histories.