Traditionally, rock and roll is an area for rebellion. It's a place where front people rip off their t-shirts and throw them into the shrieking crowds only hours later to retreat to hotel rooms and throw more stuff out the upper floor windows. That's the cliché, anyway. But Spokane musician and frontman Norman Robbins zigs when considering the traditional zag. Robbins has a charming, almost effervescent quality to him and his music, and, if that wasn't enough, when his group, BaLonely, performs, Robbins always shares the stage with his mom Kristin, who is in the group and has been from day one.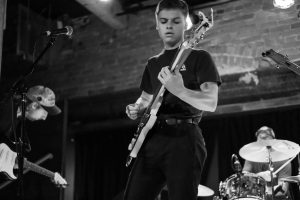 "I've always had a really good relationship with my parents," Robbins says. "They've always been really supportive of my music. We just get along with each other together, and it's simple as that, really. With a band, it's important to have good relationships with everyone, and that's how I feel about everyone in BaLonely."
The Spokane-based band, which gets together these days about once a week to practice or record as they continue to work on new tunes, includes five members. Its roots are equally as charming as its present. Years ago, Robbins had been in a three-piece with his mom and dad and a fourth member, a drummer. While that band didn't last, Robbins and his mom wanted to keep playing in a band together, so they found new members and BaLonely was born.
"We were playing as a three-piece for about a year or two," Robbins says. "Then we had some close friends of mine joined, Adam and Alex Smith, the Smith Brothers. I call them Spokane's Wrecking Crew." The quintet is rounded out with drummer Cody Brooks.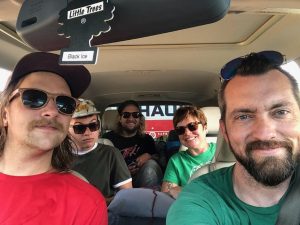 BaLonely released its first LP in 2018, Stories. The record, while a bit Lo-Fi, is encouraging. It also includes the local titular hit and delightful music video. The video marked something, a return to an important place for the band, where everything began for the group. They shot the savvy, one-take video at Neato Burrito, owned by Patty Tully and Tim Lannigan, the folks who gave BaLonely their first gig.
"The first person to book me a show was Patty," Robbins says. "She basically raised me alongside with her kids. I think I had a phone recording of me playing guitar, a bass drum and singing at the same time. I sent it to her, and she said, 'I'm booking you a show.'"
Today, the 23-year-old Robbins has played many gigs, including recent ones at Spokane's Lucky You Lounge and The Hidden Mother Brewery. He's come a long way since that early phone recording. Growing up, Robbins found himself immersed in music. Again, thanks to his parents, who played tunes around the house. As a kid, he was obsessed with sounds. Because his parents are musicians, they also had recording equipment around their Spokane home.
"I had this obsession with flipping through all the voices on these cheap Yamaha keyboards," Robbins says. "I'd sit there for hours, flipping through and making loops. I was diving into the sounds of all of these instruments."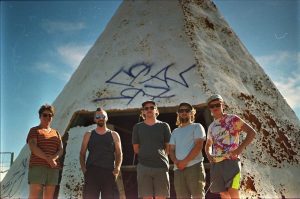 While BaLonely's first record was a bit more rudimentary, the band's second album, Staples, is more developed. It shows the trajectory of musicians bent on improvement. These days, the group is working on more music to release soon. The five-piece has been putting together a new LP. At first, it was going to be done in a few weeks, but the members have been taking their time refining it because of the pandemic. The slated release date is March 2022.
"It's been in the works for two years now," Robbins says with a chuckle. "It's been a long time. But it's also been a nice change from the records that we've worked on in the past where we maybe had, like, this many days to record. Our mentality now has just been to take as much time as we need until it feels right — without losing our minds over it."
BaLonely will release a few singles leading up to the record's spring unveiling. Robbins calls it the biggest project the group has ever worked on. And while that may worry some fans of other bands, for a group bonded over familial feelings —both proverbial and actual — BaLonely shouldn't have any problems pushing through and achieving goals.
"I'm just obsessed with sound," Robbins says. "Whatever makes sound, I love it. It just moves people in a way that you can't really explain."