With summer in full swing, it's a wonderful time to explore Spokane's parks and playgrounds. Grab the kids and make it a day to remember at these great places for kids and families in Spokane.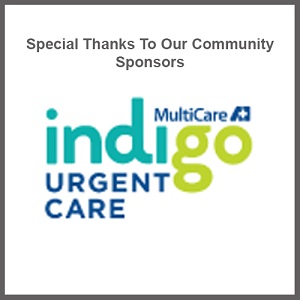 Discovery Playground
2426 N Discovery Pl.
Spokane Valley
Discovery Playground, located in the gorgeous Mirabeau Point Park, is a Discovery Playground that provides for all the senses. It's an accessible park where all can learn, play and discover.
As a community gathering place, it offers opportunities for building healthier bodies, expanding knowledge and building new relationships with family, friends and the community. Discovery Playground is helping to fulfill the dream of the founders of Mirabeau Point, who envisioned it as a multi-use campus for community, recreation, education and entertainment.
The Discovery Playground includes a gathering plaza with features like climbing boulders, fossil maze with herb gardens, benches and planting beds, shallow and steep steps, a double slide, playground observation deck with a climbing wall, spinners and swings and a picnic plaza shelter. Find an outdoor classroom for quiet group gatherings, a secret garden with a wavy path, giant objects and a vine tunnel, a bear den with a sandpit and raised sandbox table, a larger-than-life sundial and musical playground elements, all surrounded by the natural flora, fauna and landscape of Eastern Washington. Cool off with a splash pad with basalt columns and trout sculptures, operating from 10 a.m. to 8 p.m. until mid-November
All elements of the Discovery Playground were designed specifically to provide learning and play activities for all ages and abilities. Through sight, sound, scent and touch, the playground supports physical, social and educational development.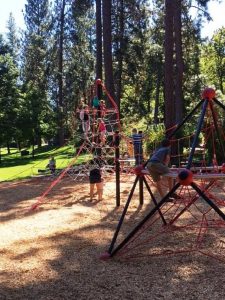 Manito Playground
2406 S Tekoa St.
Spokane
Manito Park is home to 78 acres of native and cultivated landscape and 20 acres of botanical gardens. A Japanese garden, lilac garden, mirror pond, rose garden, conservatory and café are all found within this beautiful Spokane park. Both Upper and Lower Playgrounds are great places to take children of all ages.
The city installed all new equipment and sidewalks around the playground. Their new playground equipment features a 16-foot-tall rope climbing structure that children have described as looking like a "spider web." This new climbing structure is designed to spark children's imaginations while challenging them to climb to new heights. The new spider-web play-set cost $57,400, plus $83,000 to remove the previous play structure and prepare the site.
The architecture of the new play-set is not only appealing to the eye, but it also allows good line-of-sight so parents can keep an eye on children no matter the angle they're seated. Designed to catch children who fall, this new playground is very safe for most ages and abilities.
Ice Age Playground
832 N Howard St.
Spokane
Ice Age Playground allows young learners to discover the history and events that shaped Spokane's geography. Here, the whole family can enjoy a monstrous three-story slide tower, splash pad, climbing structures and fossil digging sandpit. Located at Riverfront Park's North Bank, the playground allows 40,000 square feet of multi-functional play space.
The theme of this playground is the Ice Age Floods which were responsible for sculpting the unique geology of Spokane. The Ice Age Floods were dynamic and natural and provided rich imagery of components to create an exciting playground environment with many learning opportunities. This playground is a stimulating, safe, energetic and nature-based environment for families with children.
Ice Age Playground features several different age-appropriate play structures, a climbing boulder and a skate park called Wheels Park. The design for Wheels Park is one of a kind as its obstacles are specific to Spokane's geology. The park includes a transitioned wall ride, two bowls, a slanted wall ride and a flat bar to skate across. Riverfront Park also features a 10,000 square-foot basketball court with six hoops and professional-grade surfacing.
With the design of Riverfront Park's play places, the goal was to create safe, dynamic, adaptive and high-quality environments for children to learn while they play.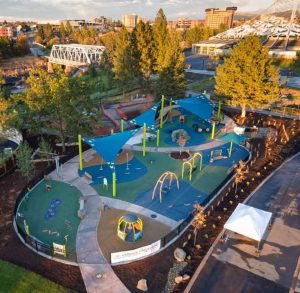 Providence Playscape
Providence Playscape, Park Trail
Spokane
Providence Playscape is the City of Spokane's first completely inclusive playground, both physically and socially. The playground aids child advancement milestones through physical, mental, societal and sensory facets.
Focus groups of parents, children and healthcare professionals all provided input during all stages of the park's development. These community groups ensured the playground would meet a diverse range of needs.
The playground offers over 20 different play elements with colorful surfacing that's easily navigated by wheelchairs and walkers. The goal of this playground is to create an environment that promotes inclusivity. All participants can interact and play independently and equally.
How do they promote equality? Through resilient surfacing that allows for free movement of devices and plenty of activities that inspire exploration, solving problems and sensory discovery. They have musical elements, a rainmaker and a hopscotch track.
The playground provides a sensory-rich, all-ages and multi-generational play place, allowing children to engage and participate at their level of comfort. The design is multi-sensory with audio, visual and tactile elements that deliver cues on building cognitive skills through solitary and group play. Here, there's a range of challenging chances for a diverse range of physical aptitude.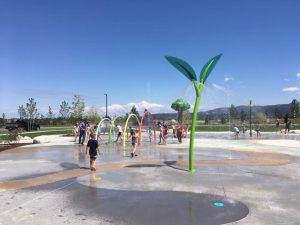 Orchard Park
20298 E Indiana Ave.
Liberty Lake
Orchard Park in Liberty Lake is a favorite place for many with various fun features for the entire family! Their green space provides an amphitheater, basketball courts, areas for tennis and pickleball competitions, a large playground hosting a variety of play activities, two first-come-first-serve picnic pavilions, trike paths and walking paths that wind their way around the park. There's even a splash pad where you and the kids can cool yourself off from 10 a.m. to 8 p.m. every day of the week.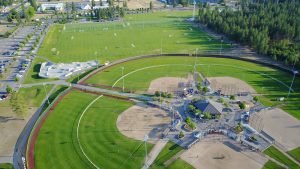 Dwight Merkel Sports Complex
5701 N Assembly St.
Spokane
Dwight Merkel Sports Complex is an incredible addition to the City of Spokane's Parks and Recreation department. This 76-acre sports complex offers courts and fields for multiple sports, a splash pad, playgrounds, picnic areas, a skate park, and even a BMX track that's open to the public.
They have six grass soccer fields, two lighted synthetic athletic fields, five lit ball diamonds, areas for concessions, restrooms and meeting spaces. A paved trail runs along the park's perimeter, and an unpaved hiking trail leads visitors to Riverside State Park's trails and views of the scenic Spokane River.
The BMX Track is a motocross racetrack complete with lights and timing equipment. The track is open to riding for the public for free riding from dawn to dusk unless a sanctioned BMX event is taking place.
With so many lovely local parks around the city of Spokane, we urge you to get outside and play in this charming city we have the honor of calling home.