Sunshine and spending time outside getting in some physical activity is super important for your overall mental health and wellness. There are seriously so many fun and beautiful places to spend your summer getting active around the city and outskirts of Spokane. It's hard to know where even to start! With so many parks, hikes and walking trails around Spokane, lace up your shoes and find some fun outdoor activities this summer.
Favorite Spokane Parks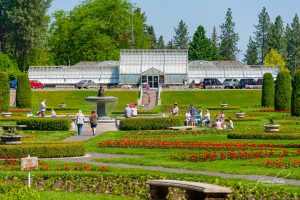 Manito Park
Manito Park is one of Spokane's most manicured and iconic places to spend an afternoon. The park encompasses five unique garden areas. The Japanese Garden, Duncan Garden, Rose Hill, Lilac Garden and Ferris Perennial Garden are all places to explore with the whole family. Manito Park is nationally recognized with a walking-tour brochure to help you locate all your favorite spots.
Manito Park spans over 78 acres of native Spokane landscape and 20 acres of carefully cultivated world-class gardens. The park features the Mirror Pond, where you can watch the ducks and waterfowl, Loop Drive offering spectacular views of the Rose Gardens and two playgrounds for children to participate in active games. In the center of the park, find Gaiser Conservatory, featuring constantly changing displays of flowers and foliage.
Minutes from downtown Spokane, Manito is located in South Hill. Explore roomy meadows, fun playgrounds, walking paths, bike trails, flowers, shrubs, water features, greenhouses and charming gardens. It's an oasis for young and old folk alike.
Riverfront Park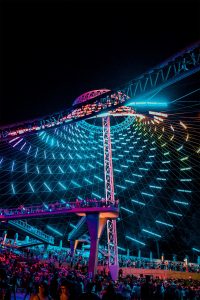 Riverfront Park is home to one of the best urban parks. Built for the World Expo of 1974, it's a spectacular sight for walking around. Conveniently, it's right in the center of the city. Spokane is one of the very few cities that has hosted a World Expo!
There is a multitude of areas to explore while at Riverfront Park. Time spent in this park will be new and interesting with each visit. Find handmade art sculptures, fine-art pieces, statues, foot-bridges and views of waterfalls and wildlife of Spokane.
It's recommended to visit Riverfront Park on Friday, Saturday or Sunday to catch the U.S. Pavilion Light Show from sunset to 10:00 p.m. throughout the year.
Hiking Trails Near Spokane
Bowl and Pitcher (Riverside State Park)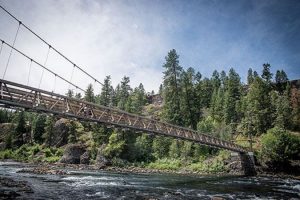 The Bowl and Pitcher Hiking Area at Riverside State Park offers picturesque postcard views of Spokane's river. The trail is easy to find from the park's main parking lot. You'll encounter a suspension bridge to walk across the water. From this bridge, watch the river flow below and take a gander at the wonderous basalt formations that line the riverbanks.
Liberty Lake Loop (Liberty Lake Regional Park)
This hiking trail begins and ends on the shore of Liberty Lake. The Liberty Lake Loop hike winds back and forth over eight miles of diverse forested environments. The initial 2.5 miles are beginner territory and well-maintained, with a wide path leading you to the Cedar Grove Conservation Area. Cedar Grove is a good turn-around spot for most, or if you're comfortable making it up a steeper path, keep going all the way up to Liberty Creek Falls.
Rocks of Sharon (Iller Creek Conservation)
Iller Creek is a wooded retreat tucked away from the surrounding neighborhoods. Two trailheads give visitors access to hiking trails. Big Rock, also named Rocks of Sharon, is the most iconic lookout point with far-extending views of the Palouse. This trail is a five-mile loop circling Iller Creek Conservation Area. The area is not only a great hiking spot, but it's also a popular spot for climbing around Spokane. Find a 250-foot rock face with varying levels of climbing routes for those seeking a thrill.
Walk or Ride the Centennial Trail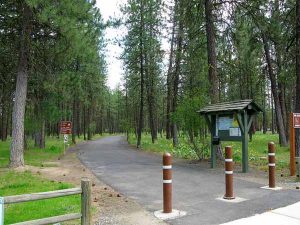 The Spokane River Centennial Trail is a 40-mile stretch from Nine-Mile Recreation Area to Coeur d'Alene. On the trail, pass through high desert, Ponderosa pine forests, basalt canyons, cultural heritage sites and urban centers. Whether you're a hiker, biker, like to rollerblade, skater, or horse-back rider, you're welcome to hop on parts of this trail.
There are over 40 historical sites found along the trail, so this hike can be easily turned into an educational one! The Centennial Trail is accessed from several points along Highway 90, so go for a drive and see what you find.
Hiking and being outdoors is a way to connect with nature, your family and an excellent way to a healthier lifestyle. With so many options in and around Spokane to get outside, what are you waiting for?