One of the least controversial presidential proclamations ever made came back in the summer of 1984 when former president Ronald Reagan declared July 15 as National Ice Cream Day, with July also declared National Ice Cream Month. Since that time, there's been an ever-growing array of ice cream options and innovations, making this one of the easiest celebrations to observe and enjoy. There are plenty of fun ice cream parlors in Spokane and the surrounding area to beat the heat with that tasty summer treat everybody loves.
Abi's Ice Cream
112 N. 4th St.
Coeur d'Alene
In Coeur d'Alene, there's a welcoming ice cream shop called Abi's Ice Cream that's home to not only hand-crafted, small-batch ice cream but also shakes, espressos, and baked goodies. It's a definite favorite among the locals as Abi's Ice Cream was just awarded the Best Ice Cream Award for the 4th year in a row by the Business Journal of North Idaho. The name of Abi's Ice Cream was actually inspired by the owner's daughter's name (Abigail), and since their opening, they have been dedicated to doing things differently. The staff there is a loving family with members all sharing the same childlike obsession with ice cream and baked goods. To try their flavors of the day, just visit them Monday through Thursday from 12 p.m. until 8:30 p.m. or until 9 p.m. on Friday and Saturday. On Sundays, they close earlier at 6:30 p.m.
Pete & Belle's Ice Cream & Chocolate Shop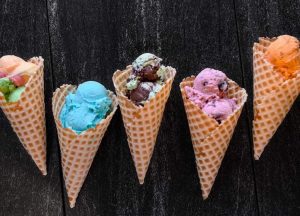 1330 N. Argonne Rd. Suite C
Spokane Valley
Nestled in the valley is Pete & Belle's Ice Cream and Chocolate Shop. Like Abi's Ice Cream, this shop is named after the owner's children, Pete and Annabelle. This ice cream shop goes beyond the 48 flavors they have on display, with 130 other flavors they can rotate in at any time. Many of these are flavors that you can only get during a certain season, such as the Snap-O-Lantern that is a spicy pumpkin flavor mixed with a hint of gingersnap cookies. Besides their ice cream, Pete & Belle's is also famous for their chocolates, caramel apples, and pet-friendly dog treats. Get yourself and your furry friend a treat anytime from 10 a.m. until 10 p.m. Monday to Sunday.
Mary Lou's Milk Bottle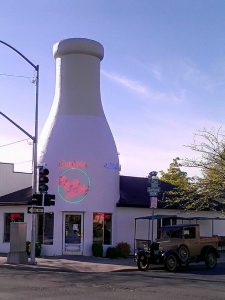 802 W Garland Ave.
Spokane
An ice cream parlor that's sure to stand out around town thanks to its 38-foot high milk bottle is Mary Lou's Milk Bottle. Originally built in 1935, the milk bottle was initially designed as retail outlets for dairy merchant Paul E. Newport. Over time, the iconic structure switched hands, first as a little shop selling knick-knacks, then going into the hands of Bill and Nola Graham. The pair turned it into a community favorite for that frozen treat we all love back in 1986. Just step inside and immediately be transported back to the 1950s to a simpler time with the retro-throwback style inside. Even the meals they serve bring their own nostalgia, with the burgers they offer coming with homemade milkshakes, fresh-cut fries, and a bill that doesn't quite hit your wallet as hard as the other guys. If you want to travel back in time, stop by from 11 a.m. until 7 p.m. Monday through Saturday.
Sweet Annie's Artisan Creamery
1948 N. Harvest Pkwy.
Liberty Lake
Serving the Liberty Lake area of our community's ice cream needs is Sweet Annie's Artisan Creamery. Sweet Annie's is unique in their ice cream making because they make theirs Philadelphia Style. This means that they do not require eggs to make their ice cream. They also source their ingredients from local farmers in the area who prioritize organic and sustainable practices. Other items, such as the coffee on their menu, also come from local businesses in the area so that everything really does come local and fresh. You can try their creamy ice cream recipe anytime Tuesday through Friday from noon until 8 p.m., or you can stop by as early as 11 a.m. on Saturdays and Sundays.
Panhandle Cone and Coffee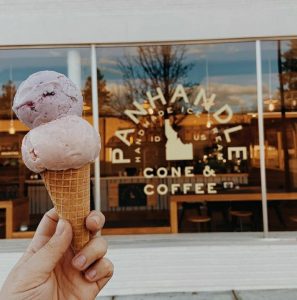 849 N 4th St.
Coeur d'Alene
Serving not only the community in Coeur d'Alene but also Sandpoint and Moscow is Panhandle Cone and Coffee. The Dillon family brought Panhandle to life after moving to the area in 2015. Before the move, they had been living in Oregon and had spent years making backyard ice cream. They left to pursue their ice cream dream here, where they made it a mission to create a space "where everyone is welcome to slow down, take a breath, and enjoy a sweet treat." They also dived deep into the community during their journey, reaching out to neighbors to ensure that every ingredient was sourced locally. If you're interested in trying their recipe for your favorite frozen treat, just visit them Sunday through Thursday from noon until 8 p.m., or you can visit them as late as 9 p.m. on Friday and Saturday.
Mrs. Cavanaugh's Chocolates and Ice Cream Spokane
513 E Hastings Rd.
Spokane
Family-owned and serving the tasty treat since 1964 is Mrs. Cavanaugh's Chocolates and Ice Cream. Their Spokane location is open from 9 a.m. until 7 p.m. Monday to Friday, with the doors opening a little later on Saturday at 10 a.m. Currently, the business is run by the second and third generations of the Cavanaugh family, but they keep to the roots instilled in them by owners George and Marie Cavanaugh. To this day, they still use the finest ingredients, like fresh cream and butter. Besides ice cream, they also specialize in caramels, brittles, popcorn, and truffles.
Doyle's Ice Cream Parlor
2229 W Boone Ave.
Spokane
Doyle's Ice Cream Parlor is a local landmark in the West Central area serving the neighborhood since 1940. The fun ice cream parlor has received numerous awards over the years for the best ice cream in the area and is famous for its Huckleberry Cone. Much like Mary Lou's, walking into Doyle's is also like stepping foot into a time machine thanks to its antique 1940's ice cream equipment and collection of vintage toys. Check them out for yourself from 3 p.m. until 8 p.m. Wednesday through Friday or noon until 8 p.m. on the weekend.
I think all of us can agree that Ronald Reagan's National Ice Cream day is undoubtedly one worth celebrating. With so many wide varieties of ice cream parlors to choose from in the area, this July, it will definitely be easy to celebrate the dessert every day of the week if one so chooses