Many of us have turned inwards, focusing on our mental health, personal values and health freedoms this past year. Self-love and self-care practices are on the rise, with meditation, apps to calm the mind, and new healing methods coming to the forefront. It's been a hard time for all, and let's be honest, we can all use all the help we can get.
To aid in your search for optimal health and wellness, healing and finding your true passion and path, here are some outstanding Spokane-based businesses that can assist you (and your family) in your healing journey.
Anchored Heart Kids Yoga
Online classes through web-portal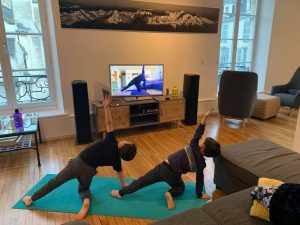 Welcome to Anchored Heart Kids Yoga in Spokane, "equipping kids for life's ups and downs!" Owner Niki Tschirgi began working for Home Grown Kids Yoga when it was still in operation. Since then, she's started her own business, Anchored Heart Kids Yoga. Niki is a trauma-sensitive kid's yoga teacher who partners with Communities in Schools to bring yoga to high-risk children.
Covid shut down most in-school yoga programs, but Niki records and posts videos for schools to access for support during in-school and at-home learning. She intends to "be a part of a child's healing puzzle by teaching breath for emotional regulation, breath with movement for body awareness, offers a voice and choice during their yoga practice, and of course to have fun!"
Her fee is $75 per month for schools, nonprofits and organizations. With this fee, your whole school will get access to all previously recorded content with the addition of four new videos per week. This package includes a guided-breathing break, a yoga-pose of the week, a five-minute yoga break, and a ten-minute yoga break. There are also twelve 45-minute prerecorded kids' yoga classes and printable breathing reminder cards.
As a former foster parent and mother of children adopted out of foster care, Niki knows yoga can be a really powerful tool for kids.
Yoga improves physical and mental health. Participating in yoga improves balance, endurance, and strength in children. Yoga offers psychological benefits for all, and studies show yoga enhances memory, focus, esteem, academics and behavior while reducing stress and anxiety in children. Practicing yoga can help children with ADD and ADHD by lessening inattentiveness, hyperactivity, and impulsiveness.
Find out more on Facebook Anchored Heart Kids Yoga and Instagram Anchored Heart Kids Yoga.
Pearson & Weary Chiropractic Orthopedics and Rehabilitation
16201 E. Indiana Ave. Ste. 1111
Spokane Valley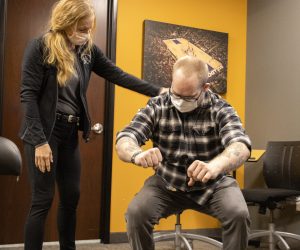 Pearson & Weary Chiropractic Orthopedics and Rehabilitation offers a holistic approach to chiropractic care in Spokane. The practitioners who have trained with extraordinary instructors and mentors are forever in pursuit of further learning. It's their passion to resolve common muscle and skeletal problems so people can live pain-free as much as possible.
With over 30 years of experience in Spokane, they have witnessed the value of expert chiropractic care in restoring people to health. Many kinds of chronic pain cannot be resolved without skilled manual manipulations. Their practice offers rapid improvement of musculoskeletal problems.
They enjoy providing clients with the tools and knowledge they need to enhance their habits, exercise routines, stretching and proper nutrition. They wish to help patients regain confidence in their body's natural ability to heal.
Feeling good in your body has a significant impact on the rest of your life. Moving freely and correctly allows you to work, play, exercise and express yourself to the maximum.
Is chiropractic care good for youth? Yes, children can benefit from appointments. Kids are extraordinarily active. They fall down, scuff their knees, jump off things, zoom down the slide, somersault down hills, they trip over their shoe-laces… Most of the time, kids dust themselves off quickly and partake in more rough-housing activities!
Minor injuries that accrue in daily life and sports can lead to pain and stiffness in children. Kids aren't always vocal about their discomforts, so be sure to open up a dialogue about how your children are feeling.
At Pearson & Weary, chiropractic adjustments are carried out based on the individual. All procedures are adapted to meet each client's needs, whether big or small. A child's treatment is very gentle.
Chiropractic care offers relief for the following symptoms:
Back pain
Neck pain
Headaches
Carpal Tunnel Syndrome
Chronic muscle injury
Sciatica pain
Sports injuries
Automobile accidents
You can call the Pearson & Weary chiropractic office to set up an appointment for chiropractic care, orthopedics, rehabilitation and physical therapy at 509.927.8997.
Blooming Lotus Hypnosis
200 N. Mullan Ste. 202
Spokane Valley
509.474.1781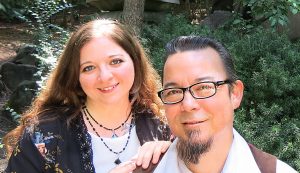 What is hypnosis? Hypnosis is a state of mind that allows one to access their sub-conscious. In this powerful state of awareness, patients (with the help of professional practitioners) seek to resolve many troubling issues. Hypnosis helps one discover the motivations hidden in the sub-conscious.
Habits, behaviors and negative self-talk can be altered using hypnosis techniques. You have to "relearn" how you think and behave to change your life in positive ways.
Many people think of hypnosis as a religious tactic, but it's been used by the medical community since 1958. Hypnosis can help people overcome chronic pain, release negative thought patterns, lose excess weight and even quit smoking.
Hypnosis is entirely a voluntary act, and to be hypnotized, you must want to be. Hypnotists have no actual control over you, and they can't make you do anything or react in a certain way. Unlike you see in some hypnosis stage shows, where people do crazy things at the hypnotist's mention, these shows are for entertainment, and that's not what happens at a hypnosis appointment. Here, hypnotists serve as your guide to gain control over your life.
Hypnosis allows you to reach a heightened focus. Our conscious mind works by taking new incoming information and comparing it to what we already believe. If new information is not like the views we already have established, it's automatically rejected. Because of this mental mechanism, changing behaviors can be tough to do. Many people believe they "can't change," and this thought pattern prevents change from occurring. Hypnosis allows you to bypass the comparing mechanism, allowing beneficial information directly into the subconscious. Through this route, the subconscious changes you want to make can be accepted, and people often see positive results quickly.
Blooming Lotus Hypnosis is one of the premier hypnotherapy centers in the Spokane region. They specialize in hypnosis techniques to help clients free themselves from limiting beliefs, negative emotions, and self-sabotaging habits to empower clients to achieve their dreams and goals.
Request an appointment by filling out their online form HERE.
North West Intuition
Online and in-person sessions and group gatherings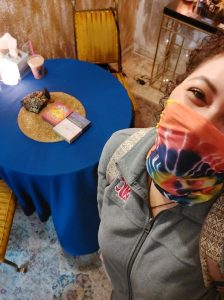 A wonderful and humorous woman, Tianna Lee Moss, is the face behind Northwest Intuition. It has been her pleasure to conduct psychic-medium sessions with people around the world since 2017.
Through various ways of connecting to source, she helps people find clarity and realign with their path.  Tianna started developing her Tarot skills in 2016 to channel visual messages she was receiving from the "other side."
The goal is to realign people with their purpose and help them understand the lessons and events that shape their lives. She prides herself on making each session as personal and unique as the people experiencing it. This varying experience is what has made Northwest Intuition so successful in the Tarot-reading field. Sessions are personal and will change people's lives in one way or another.
One of her passions is teaching others how to use their innate abilities to connect to the source. By tuning into your personal power, people can start the ripple of healing within themselves to positively influence their community.
Northwest Intuition offers private sessions and couple's readings and caters her services in guidance at private parties and group events. If you would like to schedule a personal session for yourself or your event, or if you're looking for some daily inspiration, positive outlooks, a friendly, loving face and some great life-advice, you can follow Tianna on TikTok Northwest Intuition.
To schedule an appointment, you can direct-message her on Instagram Northwest Intuition.
Integrative Medicine Associates
3424 S. Grand Blvd.
Spokane
509.838.5800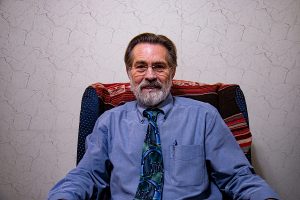 The name, Integrative Medicine Associates, says it all. They have combined the best in natural and conventional medicine in the Spokane area for over 40 years.
Their primary focus is on illness prevention rather than simply treating symptoms of disease. Their wish is to empower patients by giving them the necessary tools and knowledge required to make lasting changes in their lives. Here, patients are asked to take responsibility for their individual health and wellness needs. In their office, they provide a supportive environment that encourages people to make positive changes.
Integrative Medicine Associates specialize in "IV" or Intravenous Therapy. What is IV Therapy? IV Therapy sends fluids and medicine directly to the veins. The fluid contains essential vitamins and minerals through an IV drip, allowing the therapeutic properties to take place quickly in the bloodstream.
Various IV therapies are used for an assortment of ailments and can address many symptoms more rapidly than simple supplementation. IV therapy is very straightforward. Once inserted, the IV fluid is directly absorbed into the bloodstream. It's virtually painless and is an easy healing modality.
IV therapy is used to promote and maintain general health and wellness. The fluids, vitamins and minerals help support healthy immune function, cell-regeneration, aids in keeping you hydrated and can improve your energy levels by adding a balance of vitamins and minerals to your body.
If you are unwell, IV therapy is an easy and convenient option. You can call their office at 509.838.5800 for a free 15-minute consultation to see if IV Therapy is the right step for you to take on your healing journey.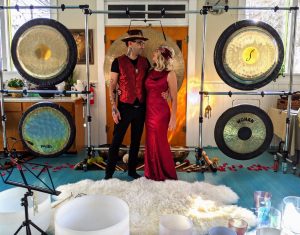 Dreamtime Sound Healing is a sacredly-held space in which participants are submerged into various sound vibrations from a multitude of instruments tuned to a medicinal frequency. Sound-healing techniques activate, massage, and restore the subtle body energies, pathways and the auric-field to resonate with higher frequencies and consciousness.
It's a unique combination of science and spirit coming from Shamanic and Yogic practices. Sound-healing is a must-feel-for-yourself experience that has been shown to produce incredible results in stress relief and lessening anxiety, PTSD, and pain. Sessions induce deep relaxation, restful sleep, internal releases, cellular regeneration, profound insight and past-life healings. Overall, it's life-changing!
Sound healers Alesha and Seth Blackwolf implement a wide variety of ancient sound healing instruments, including Quartz Crystal Singing Bowls, Tibetan and Himalayan Singing Bowls, Gongs, Drum, Flute, and so much more. They weave a rich musical tapestry with verbal guided meditations to encourage a healing journey to take place in the soul. Custom blends of handcrafted essential oils are utilized during the ceremony to deepen the healing journey.
What is a sound bath? Essentially, a sound bath is a meditation that aims to guide you into a deep meditative state while enveloped in ambient sound. Most participants lay down or stay in a seated position, whichever is preferred. Bringing comfortable mats, pads, cushions, or a lounge chair is encouraged for an optimal experience.
New to meditation? Dream Time Sound Healing is inclusive of all people wanting to learn. Sound baths are great for folks who are new to meditating and those who've been meditating for years. They have an annual "Mid-Summer Night Dreamtime" scheduled on August 14 at 7:30 p.m. in Spokane Valley.
Sound-healing is a meditation, so typically, they don't allow children. Every couple of years, they offer a "Family Sound Bath," where they welcome children and their parents to participate in the sound-healing experience.
Their upcoming events can be found on their Dream Time Sound Healing Facebook page. To sign up for a sound-healing ceremony, email yogawithalesha@gmail.com or call or text at 208.819.5785.
All of these health and wellness practitioners can help give you the tools necessary for healing, but it's up to you to make choices that can change your life. Yoga, chiropractic, hypnosis, tarot-guidance, integrative holistic medicine and meditation are all wonderful healing modalities to help you put your best foot forward in making life-altering changes in a powerful and personal direction toward healthiness, happiness, and a pain-free, upbeat lifestyle.