As the days get longer and we spring forward into the sunshine, it's time to emerge from hibernation and find new, fun things to do in the outside world again. Sure, there's always hiking, parks, movies, and bowling — all summer classics. How about something new yet old school, like the zoo or aquarium? Oh, but wait — the nearest one of either of those is hundreds of miles away! Or are they?
Experience the magic of the sea right here in Spokane at Blue Zoo in the Northtown Mall! Blue Zoo opened to the public in 2019. However, the zoo's creation was actually set in motion years earlier after founder Wesley Haws suffered a serious brain injury. He had been struck in the head while working on a farming project in Africa that left him with a long, slow recovery.
Haws credits his fish tank's therapeutic power for getting him through the ordeal, and he walked away with a passion for sea life. He then went on to own an aquarium maintenance company and eventually launching the Blue Zoo to share his newfound love with everyone.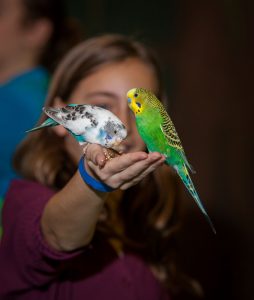 Getting to experience ocean wildlife wonders only costs $15.95 for a day pass and just $12.95 for kids ages three to twelve. It's money well spent after rounding the corner and seeing just how hands-on and interactive Blue Zoo is compared to other aquariums. Plus, there's a bonus — not only does Blue Zoo have fish, but they also feature bird and reptile rooms.
Haws made it his mission for Blue Zoo to provide access to sea life and teach future generations about the importance of marine conservation. It's a mission so important they plan on focusing future expansions on land locked-areas without access to the ocean.
Some featured species to explore and learn about at the zoo are aquarium favorites like sharks and octopi, but the real fun happens at the touch pools that house stingrays, starfish, and sea urchins. Guests can actively touch and interact with these creatures as staff provides educational information about them.
Nearby is a 24-foot pirate ship for the kiddos to play on, and just beyond that are the bird and reptile rooms. In the bird room, guests are welcomed to walk in and spend time with their new, feathery friends while being supervised. Guests can also visit the reptile room and interact with the scaly friends there. The wall leading back out to the gift shop showcases a large tank housing amazing river giants that are just as friendly as the stingrays.
Be sure to check out the various shows while at Blue Zoo. Kids love the pirate and mermaid shows, but there are educational shows as well featuring the reptiles, stingrays, and sharks. During the fun dive show, a professional teaches the audience all about scuba diving. Blue Zoo also has VR and interactive play areas for kids to enjoy.
Love it after the visit? Blue Zoo offers various annual passes costing between $150 to $200. There is also a rentable party room available for not just birthday parties but also gender reveals, business parties, and anything worthy of a celebration. They also have the option for a meet and greet with some of the animals, a costumed shark, pirate or mermaid, at an additional cost.
Of course, schools are always welcome to contact Blue Zoo about field trip opportunities, but they also go above and beyond by providing educational tours as an option for inspiring biologists and even offering internships for those interested.
Want to learn more about the Blue Zoo? Visit their website or give them a call at 877.425.8396. Blue Zoo is open for exploration from 11 a.m. to 7 p.m. Monday through Saturday and 11 a.m. until 6:00 p.m. on Sundays.
Blue Zoo
4750 N Division St. Suite 1242
Spokane
info@bluezoo.us