Times have been hard for many with COVID-19 restricting dining-in at restaurants throughout the city of Spokane. Many of these excellent restaurants fall outside of Spokane's downtown city limits and are offering tasty curbside pick-up and takeout options. Even if we can't go and eat inside our favorite restaurant, it doesn't mean we can't enjoy their wonderful meals while supporting local business owners.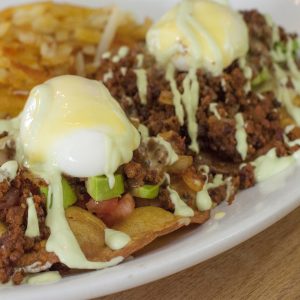 Bene's
509.951.5207
24 W 1st St., Cheney
Woke up hungry? Bene's is a mastermind of all things breakfast, especially eggs Benedict.
Bene's first opened their doors in September of 2017. They are located in the heart of Cheney, just minutes from Eastern Washington University.
This business is locally owned by Derek and Alexx Baziotis. They have over a decade of cooking and serving experience and pride themselves on being the best breakfast in town. They love the breakfast crowd, open fantastically early, and provide exceptional customer service.
Open from 7 a.m. to 2 p.m. every day, Bene's offers a unique selection of twists on traditional breakfast and brunch. On top of the classic eggs Benedict, they also serve vegetarian benedict, chorizo benedict, fried chicken benedict, smoked salmon benedict, and even a mean grilled cheese benedict. Basically, any benedict you can conjure up in your mind, you can find it there.
Try Bene's in Cheney! Their benedicts are a hoot and we've heard their waffles are to die for. Order online to see what Bene's is cookin' up.
Terry's on Trent
509.924.1481
7815 E Trent Ave., Spokane Valley
Terrance Knight started Terry's on Trent in 2008. After being in the restaurant business for 37 years, he opened this cheerful breakfast and lunch joint to keep his cooking dreams alive in Spokane Valley.
They're normally open from 5:30 a.m. to 2 p.m., but during COVID-19, they're running from 7 a.m. to 1 p.m. daily. Times have been tough on the business and tougher on employees because of having to operate at a portion of their regular hours.
"It's been a roller coaster through these times, but we are very thankful for all our loyal customers," said Knight. Typically, they also cook catered events like Pig Out in the Park, The Interstate Fair, The North Idaho Fair, Webb's Slough Racing, and more.
Currently, Terry's offers takeout options by ordering through their direct phone line. They've decided to keep things simple and cut out delivery companies due to the high rates these companies charge.
A smart pivot they've made is Terry's is now serving three dinner specials on Thursday, Friday, and Saturday evenings from 4 p.m. to 8 p.m. Be sure to follow their Facebook page to stay updated on their latest offerings and dinner specials.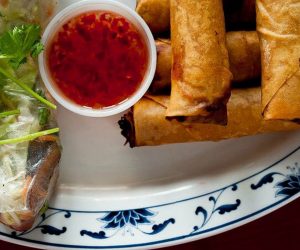 Lalozy
509.924.3023
13917 E Trent Ave., Spokane Valley
Lalozy Food & Coffee established their humble beginnings back in 2003. They started out only selling coffee, smoothies, and shakes along with a famous eggroll as a "thank you" to patrons. Their eggrolls became an instant hit and customers begged for more. With some time and planning, they built an addition — a professional kitchen — to serve their delectable Asian cuisine.
All dishes are made to order with fresh vegetables and signature sauces. Everything is made from scratch, using no MSG whatsoever. They take pride in delivering authentic Asian flavors to the Spokane community at large.
With a convenient drive-through window, it's easy to pick-up your food, a wakeful coffee, or some traditional Jasmine and cream bubble tea. You can customize anything on their menu to fit your taste preferences.
The fabulous service, high-quality ingredients and low-priced menu are what guests appreciate most. Call ahead to place your order and clarify your wait time. If you don't mind waiting, sit in your car while taking in the lovely aroma of your dish while it cooks. Do your taste buds a flavorful favor and try Lalozy.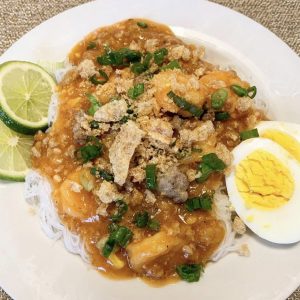 Lumpia Loca
509.599.2279
14700 E Indiana Ave., Spokane
Speaking of making huge business pivots through these wild times, Rene Moya, owner of Lumpia Loca, started selling authentic Filipino food over Facebook Marketplace. Originally, he started doing this on the side to make some extra money after working his full-time day job.
Though it's been said, "Don't quit your day job," Moya was surprised by how quickly business began to grow over Facebook. Word of mouth traveled fast, orders flooded in, and business grew so quickly Moya decided to transition out of his construction job to work full-time on this passion project.
They keep Filipino tradition alive and serve authentic food with a personal twist added to every dish.
Lumpia Loca currently offers curbside pick-up from the Spokane Valley Mall on Tuesdays from 12:30 p.m. to 6 p.m., and Friday – Saturday from 12:30 p.m. to 6 p.m. All other days are closed and serve as prep-time for this fresh cultural food. See their online menu for delicious traditional offerings and call to place your order.
Remember, now more than ever, it's important to support small and local entrepreneurs. These are family-run businesses that take the time to cook fresh meals to fill your belly and soothe your cravings. If you're feeling hungry, please support one of these fabulous Spokane area restaurants.