It's no secret that Spokane loves its breakfast and brunch options, but just for that reason, picking where to start your day with something delicious might be tough. Never fear. Below are nine of our favorite restaurants that serve breakfast and/or brunch!
Frank's Diner
Arguably the best breakfast spot in Spokane, Frank's Diner serves up its eggs and chicken fried steak in a former Northern Pacific Railroad train car in downtown Spokane. It functioned as a diner in downtown Seattle starting in 1931, and moved to Spokane more than two decades ago. Frank's menu includes its own section for eggs benedict, ranging from classic to creole, as well as omelets, waffles, pancakes and other typical breakfast fare. Open until 9 p.m. every day, come later for burgers, sandwiches and more.
Frank's has locations at 1516 West 2nd Avenue as well as 10929 North Newport Highway in north Spokane.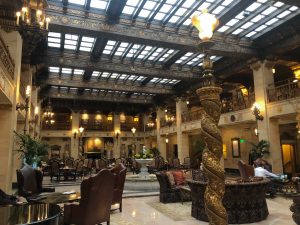 The Historic Davenport
Despite the cool factor of Frank's train car, the most iconic morning meal in Spokane is Sunday brunch at The Historic Davenport Hotel. From 10:00 a.m. to 1:00 p.m. each Sunday, enjoy all-you-can-eat brunch in style. The last seating is at 12:45 p.m., and reservations are encouraged as the Historic Davenport is popular. The ballroom meal includes seafood, carved-to-order meats, and a chocolate fountain. Bottomless champagne and mimosas are included, but there is also a build-your-own bloody mary bar for an additional cost. The Davenport also hosts special brunches for Mother's Day, Father's Day, Easter and Thanksgiving.
10 S Post Street, Spokane
The Yards Bruncheon
On the main strip of Kendall Yards, The Yards Bruncheon is one of a few breakfast spots all within walking distance of each other. The Yards specializes in brunch and serves it seven days a week. If you're in a rush, the restaurant has a pickup window for eaters on the go. The breakfast fare includes delicious avocado toast, cinnamon roll pancakes and "Chick'n n' Waffles." If you're leaning toward lunch, try the fish and chips or the mushroom Cubano. Also, make sure to check out the mimosa section — flavors include pear, huckleberry, blueberry, raspberry, mango and lemonade.
1248 W Summit Parkway, Spokane
The Bruncheonette
Two blocks north from The Yards on Broadway, The Bruncheonette's décor skews more toward farmhouse and its menu has some Southwest flavors. For breakfast, try the Darth Vato migas, with scrambled eggs, chorizo sausage, avocado and corn tortillas, or the biscuits and gravy with chorizo. The brunch menu includes poutine and pulled pork pancakes, and you can get hummus tacos or fish sandwiches for lunch starting at 11:00 p.m. The Bruncheonette also serves alcoholic drinks, like mimosas and bloody marys.
1011 W Broadway Avenue, Spokane
Brain Freeze
Kendall Yards is also home to another, more unconventional breakfast spot: Brain Freeze Creamery. Most popular for its ice cream – obviously – Brain Freeze also serves breakfast in a waffle cone. Try "The Original" with eggs, cheese and potatoes, or choose another cone with toppings like ham, bacon and veggies. Apart from breakfast cones, Brain Freeze has a breakfast burrito, a handful of other sandwiches and a grilled cheese bar. You can also order affogato — shots of espresso over your choice of ice cream.
1238 W Summit Parkway (Kendall Yards)
1230 S. Grand Boulevard (South Hill)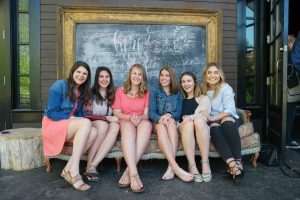 Chaps
About 10 minutes south of downtown on Highway 195, Chaps is known best for its brunch and baked goods. The restaurant is always busy on the weekends and it doesn't take reservations. While you're in line, grab a photo with your group in front of the Instagram-famous chalk board by the front door. Inside, the restaurant is decorated with a farmhouse décor and antique furniture, while the outside is full of metal café tables for a wonderful late morning meal outdoors. Start your meal with a cinnamon roll or a scone, then move on to a chorizo omelet or chicken fried steak for the main course. Chaps is also open for lunch and dinner, with everything from steak and pot pie to quesadillas and curry.
4237 S Cheney Spokane Road
Kalico Kitchen
With its low prices and Gonzaga University décor, Kalico Kitchen — only about two miles north of the school on Division Street — appeals to Zags and their wallets, as well as the rest of Spokane. The classic mom-and-pop diner opened in 2003 and is still family-run. The menu includes the usual combos of eggs, sausage and bacon, as well as omelets, pancakes and waffles. For lunch, try the fish and chips, burgers or sandwiches.
2931 N Division Street
Clark's Fork
Also a Gonzaga student favorite, Clark's Fork is just across the street from the Hemmingson student center. Order at the counter at this casual breakfast and lunch spot, then sit at any table you want — if you can find one. The walls are decorated with photos of food and quotes from Pacific Northwest explorer William Clark, one inspiration for the name of the restaurant. For breakfast, order the hot mess — a pile of biscuits, sausage gravy, eggs, potatoes, and bacon — or the avocado toast and eggs. The cinnamon roll French toast is also a must-try. During lunch time, grab a burger or sandwich; Or try the extensive salad bar.
1028 N Hamilton Street
Boots Bakery & Lounge
Sitting among some of downtown Spokane's best bars, Boots Bakery & Lounge serves up mean drinks and also amazing baked goods. It just so happens that it's all vegan-friendly, mostly gluten-free and locally sourced. The bakery and lounge has high ceilings, exposed-brick walls, and it's full of rustic wooden tables and chairs, as well as local art. At weekend brunch, the menu can include things like banana waffles, biscuits and gravy, and tofu scrambles. Otherwise, the food menu is fluid and changes daily. Some staples are cupcakes, cookies and sandwiches, though. For drinks, Boots has coffee, cold brew served by the pint and a long list of cocktails.
Boots also frequently hosts events for other organizations, so check out its Facebook page to stay updated.
24 W Main Avenue