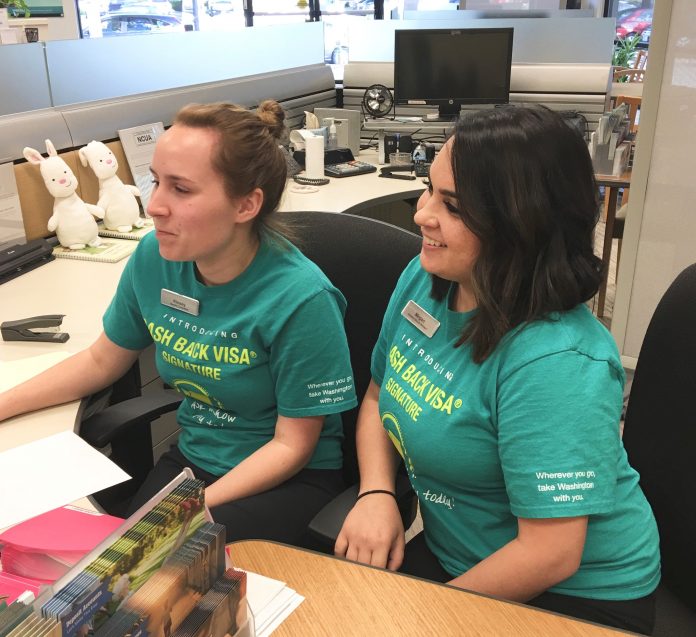 I am 17-years-old. Almost legally an adult. Except it seems there are some things I haven't learned year about being an adult.
Figure out how to drive a car? Check.
Be offered a job? Yup, I have been.
Understand college scholarships? I'm working on it.
Understand how finances work? Well…I haven't completely learned about that yet. I recently signed up for a debit card and feel comfortable using it responsibly. However, when it comes to credit cards, I don't have much experience. As a young person, I wondered if it was even necessary to think about my credit score this early in life. Luckily, I was able to sit down with an expert. Inspired by recent member feedback, The Washington State Employees Credit Union (WSECU) has revamped debit and credit cards to better fit people's needs. One of these is the new Create Card, specifically designed so people without a credit score (often younger people) can build credit and good spending habits. The expert in question was Andrew Becker, vice president of product design, whose team came up with the idea for the new Create Card. He gladly agreed to discuss both the card's features and the importance of establishing good financial habits with me.
Why should young people want to have good credit?
It's important to have good money managing habits early in your financial history because many important decisions depend on having established credit. "The better you manage borrowing money and making those payments on time, the better you improve the score we're all measured against," Becker states. As people start to take on more responsibilities in their lives (like getting a new job after high school or college), they often need to make larger purchases, such as a car or home. In these situations, financial institutions will look at the customer's credit score as a determining factor for loan qualification.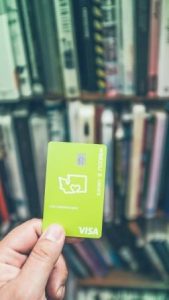 Are the new Create Cards only for young people? Is there an age limit for this program?
Becker says that "generally speaking, I would say it's oriented for a younger person, someone that's just going from high school or college to the next step in their adult lives and wanting to build credit."
That being said, the Create Card can be for anyone who has never needed credit before. "You can basically be any age and need to build credit," says Becker.
Do customers age out of this type of card?
Becker says that the Credit Union offers other types of credit cards with different rewards, like cash back or rewards points benefits, that customers can use later. The card was designed to be a customer's first credit card but with guard rails, so once a member has proven they understand how to effectively build credit, pay bills on time, and make responsible spending choices, WSECU recommends switching to a different credit card.
What benefits are offered to members with the Create Card?
One way the Create Card benefits cardholders is by lowering their interest rate for every six months of on-time payments (up to 2 percent total). The Create Card also is nicer on late payments. Often other banks, credit unions, and credit card companies charge cardholders up to $35 for each late payment. The first time a member makes a late payment with the Create Card, the fee is $10. The second time it's $20, and any time after that is a flat fee of $25, so the penalty isn't too expensive for young members who are still figuring out how to manage their finances.
What do members need in order to apply for the Create Card?
When a member applies for this card, the WSECU requests any income records and lending history they have so they can work with the customer to decide on a custom spending limit. It's okay if a customer doesn't have any lending or credit history. If that information isn't enough, a responsible second adult (like a guardian or parent) can also sign onto the account. Becker notes that WSECU really just wants to get this card into the hands of teens and young people to show them how to create good financial habits, which is why they added the co-sign feature and limited number of application conditions.
Do you have to be a WSECU member to apply for this card?
Becker states that a member needs to open at least a savings or checking account in order to set up other services with WSECU. When the Credit Union originally opened, it was only for Washington State employees and their families to utilize, but in 2013, WSECU made the executive decision to expand their services to be available to anyone living Washington State, but with "a special focus on those who, like our public employees, have the dedication and desire to serve and make a difference in our communities."
The Create Card has a credit limit range of $250-$2,500. How is this rate decided upon for each customer?
When WSECU first talked about the idea for the Create Card, they wanted to be mindful about encouraging their younger members to not borrowing as much as possible, Becker states. "We are trying to avoid getting people that are building credit for the first time in trouble and to where they are borrowing more than they can afford to pay back," he says. He adds that WSECU works with a new Create Card-holder to decide on a number (most likely less than the upper limit of $2,500) that works with any expenses they have as well as their income.
How can I get a Create Card?
For customers interested in applying for the Create Card, there are multiple ways to do so, ranging from digital or on paper. You can visit WSECU's website to fill out an online form, call WSECU at 800-562-0999 to speak to a representative who can help you apply, or you can fill out a paper or digital form (on one of the company's iPads) at one of in a WSECU's many locations.
I am interested in becoming WSECU member, but don't need the Create Card. What are my options?
For members who have already build credit, WSECU has launched a few other types of credit card accounts. There is information about the various other benefits with these other services on WSECU's website.