There's a reason why Christmas is one of the most popular holidays here in the United States. In fact, it's such a beloved holiday that some fans can't help but put their Christmas tree up the day following Halloween, starting as early as November 1 with their Christmas decorating. Talk about commitment!
Of course, some of us put it up the day after Thanksgiving, and for those procrastinators, sometimes that tree doesn't go up until the last minute. No matter what your timeline preference for putting up everyone's favorite holiday centerpiece, the project wouldn't be possible without the tree itself, and just as thought goes into picking that perfect tree as it does in putting it all together, so here to help get the holiday spirit started and make the process of selecting a Christmas tree easier are these fantastic Christmas tree farms here in and around Spokane.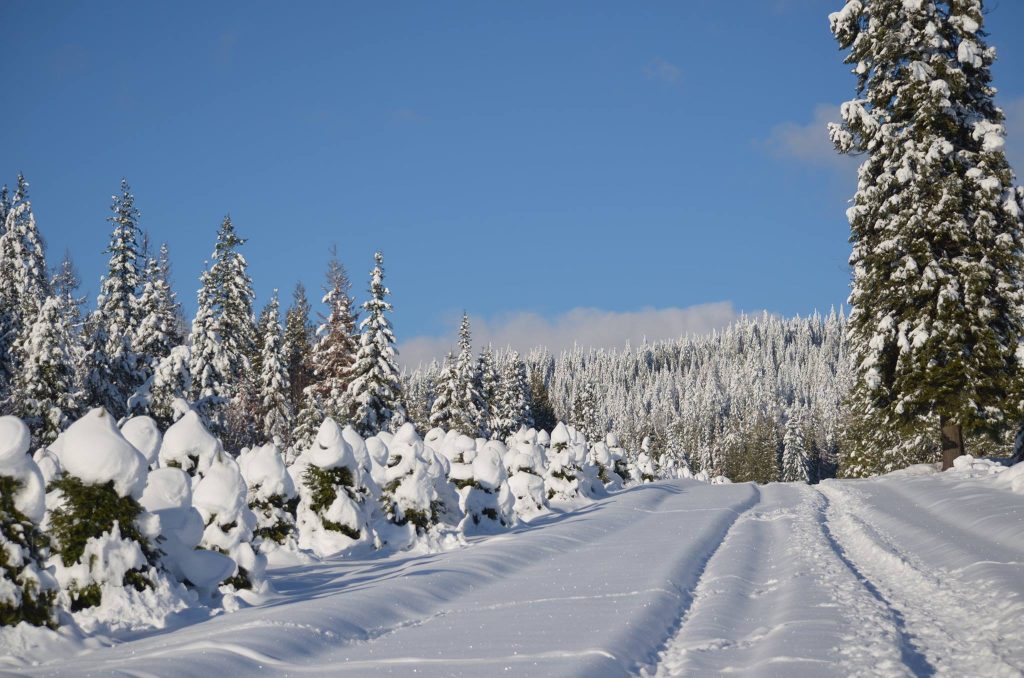 Camden Ranch
1521 N Williams Road, Elk
509.828.5441
For decades, Camden Ranch has been a destination spot for creating priceless family memories, from unforgettable weddings to spectacular events that will be forever cherished, and their famous Christmas Tree Farm is no exception. Each winter, they welcome residents and their loved ones to browse their vast selection of U-cut Christmas Trees, including elegant White Fir, Grand Fir, and Blue Spruce galore to pick from for that perfect tree. To accommodate patrons, there is even a tractor you can hop on for rides across the ranch to help families on their tree hunt.
Don't forget to stop by the Cocoa Corner for some hot cocoa, coffee, cider, and treats when the cold becomes too much. Various selfie stations await those picture-perfect poses, and the ranch's holiday gift shop offers a beautiful selection of gifts for anyone on your list. As a bonus, Santa also visits the farm frequently!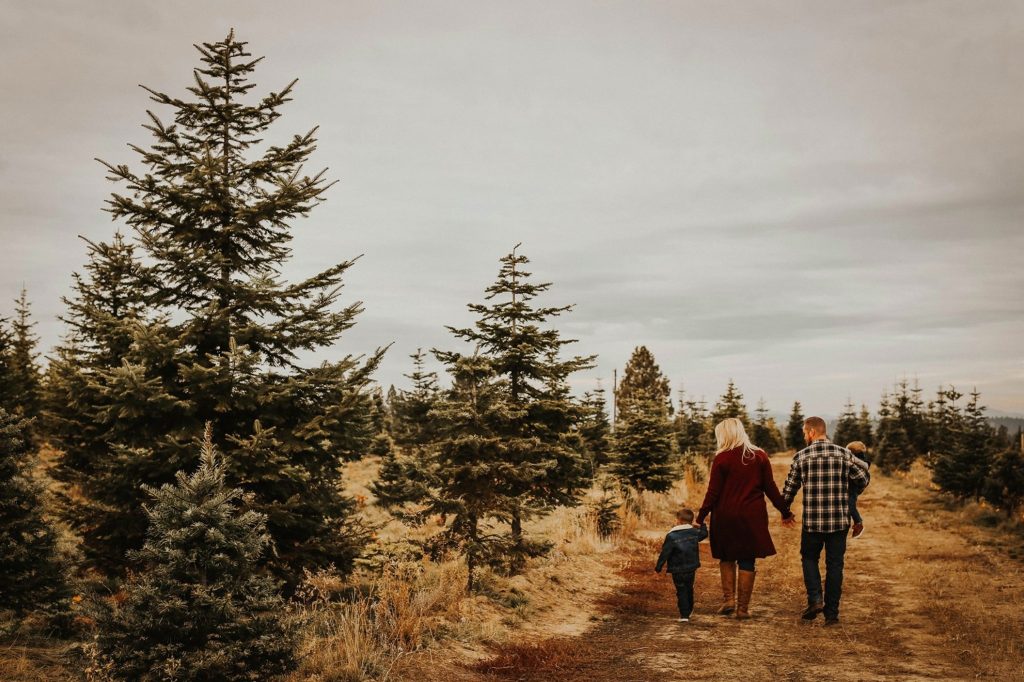 Green Bluff Tree Farm
8022 E Greenbluff Road, Colbert
509.998.9967
Reservations will be required for Green Bluff Tree Farms 2023 U-cut tree season, which will run from November 24 until November 26, with details here. Beyond the trees, the farm offers plenty of other items to get you into the holiday spirit, such as wreaths, holiday décor, and a complete market full of wine, beer, and local art gifts. This is all thanks to Wildland Cooperative's Market + Winery + Brewery, which is open Friday to Sunday from 12 until 6 p.m.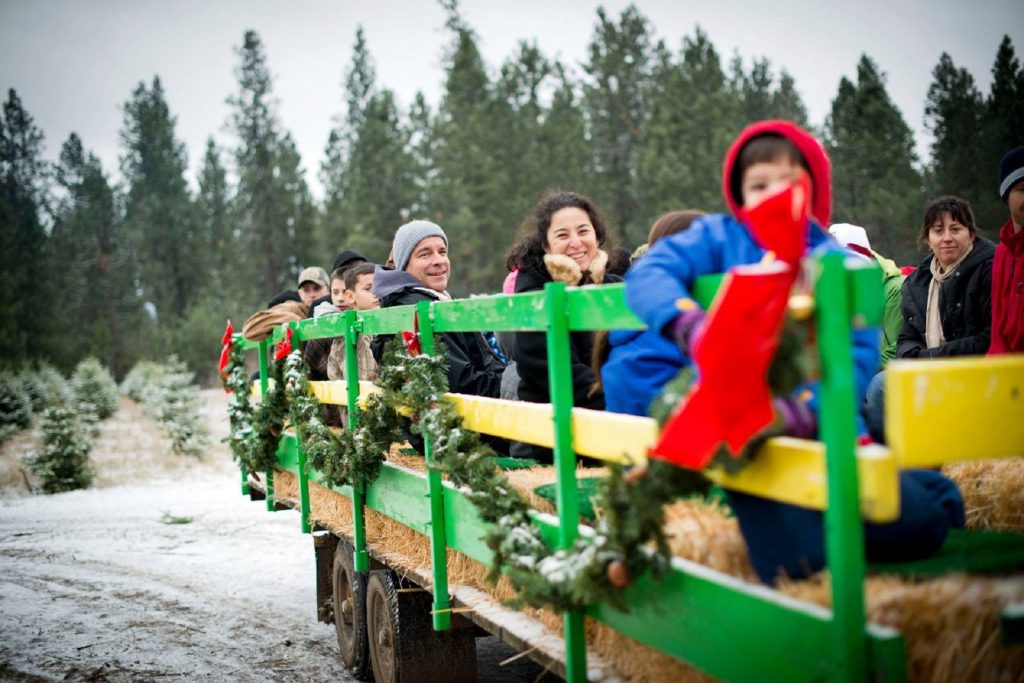 Carver Farms
9105 N Idaho Road, Newman Lake
509.226.3602
For the first time, reservations will be required to help Carver Farms manage their tree inventory for years to come this winter. A link will soon be posted to their Facebook page for the 2023 season. They'll welcome families to the farm starting Friday, November 24, to select a tree from their collection of U-cut Christmas trees, offering free shaking and baling to help you get your tree through the door and (hopefully) not ruin Christmas.
There will be free cider for the adults and hot cocoa for the kids, along with pumpkin donuts, wreaths, their famous Bean Soup mix, locally made gifts, and much, much more as they spread the holiday cheer for this Christmas!
Hansen's Green Bluff Orchard LLC
8215 E Greenbluff Road, Colbert
509.238.4902
Already accepting reservations for Choose and Cut Christmas Trees is Hansen's Green Bluff Orchard. No matter the size, all trees are $100, and the price includes tax, shaking, and baling services. Active military members receive a 20% discount on purchasing a Christmas tree.
Offered on the orchard is a selection of homegrown Concolor Fir, Corkbark Fir, Fraser Fir, Grand Fir, Nordmann Fir, and Colorado Blue Spruce Christmas trees. Stop by on a day when the weather is good and enjoy their bonfire and free s'mores, along with their own mix of hot cocoa served in the wreath shop that also features gift ornaments for the children.
Dietz Christmas Tree Farm
17714 N Day Mt Spokane Road, Mead
509.342.1425
Inventory is low for the 2023 holiday season at Dietz Christmas Tree Farm as they have a very limited number of trees. This year, they intend to open the weekend before Thanksgiving, weather permitting, so those wanting a tree from these guys should act fast. Though the inventory itself may be limited, they have a large variety of you-choose and you-cut varieties to choose from, including Balsam Fir, Blue Spruce, Canaan Fir, Colorado Blue Spruce, Fraser Fir, Grand Fire, and White Fir.
Veley Farm Christmas Trees
19922 N Felspar Road, Deer Park
509.216.3051
Beginning November 24 and running through December 10, Veley Farm Christmas Trees will be available for sale for the 2023 holiday season. The local family farm with four generations of farmers has been on the same land since 1943, becoming a favorite holiday family tradition for Spokane community members. They have one of the best selections of thousands of excellent U-cut Christmas trees.
Several tree types will be on site, including Scotch Pine, Concolor Fir, Grand Fir, Corkbark Fir, Douglas, Nordman Fir, Balsam Fir, and Blue Spruce. The large selection is all thanks to the farm's unique micro-climate, which allows them to grow many kinds of trees that don't grow on other farms in the area successfully. They'll shake and bale whatever tree you pick while you enjoy sipping hot cocoa and warming by the fire. Plus, there's no reservation needed to enjoy the family's favorite tradition of choosing that perfect Christmas tree here at this farm.
G's Christmas Tree Farm
25107 N Regal Road, Chattaroy
509.998.2051
Reservations are now open for the 2023 holiday season at G's Christmas Tree Farm. Here, it's any tree, any size, for $85 plus tax, with tree varieties including Grand Fir, Blue Spruce, Meyers Spruce, Concolor Fir, Balsam Fir, and Serbian Fir. In addition to everyone's favorite holiday centerpiece, they also offer multiple sizes and specialty-shaped holiday wreaths, and there's even a gift shop where you might find that special gift you've been looking for amongst their new, handmade and gently used Christmas treasures.
To make the visit to the farm a memorable one for ages to come, they also offer a variety of other amenities, including hot cocoa, cider, cookies and candy canes for guests to enjoy, as well as two sleighs and one Johne Deere tractor for photo ops, outside and inside fires, farm animal safari, pet photo wall, and much more! There's even a limited number of visitors allowed on the farm per day to keep with the small farm feel and make it a more cozy experience for guests.
While you don't have to have your tree up the first week of November to find the perfect tree at these local Spokane Christmas tree farms, remember that U-cut season is short, and trees are limited. Just to be safe, you might want to mark your calendars because you wouldn't want to miss an opportunity to create those lasting family holiday memories while picking out the perfect Christmas tree in Spokane to be your holiday centerpiece for the 2023 holiday season!