The Armenian Genocide, 1915-1916, was one of the worst humanitarian crises of the 20th century. International efforts to help aid survivors were extensive. Led by the Near East Relief, now the Near East Foundation, people worldwide and here in Spokane rallied to provide aid.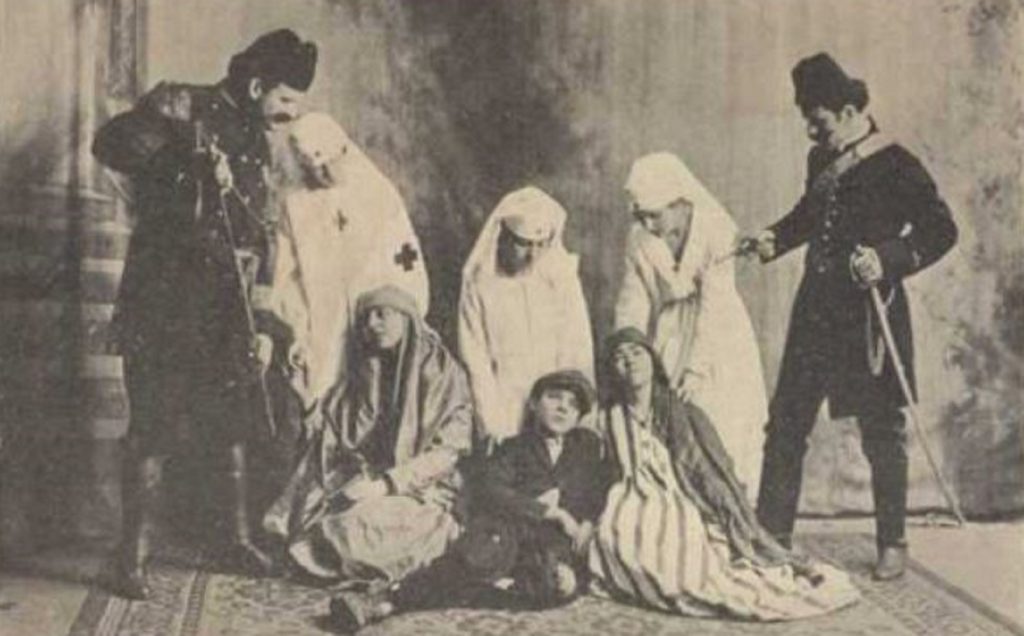 Medz Yeghern, the Armenian Genocide
Armenians are an ethnic group in Western Asia, then ruled by the Ottoman Empire. The Ottoman Empire sided with Germany during World War I. Seeing the Christian Armenians as the enemy, they were targeted for destruction. In total, over a million Armenians were killed or died of starvation and disease. Greeks and Assyrians were also victims of genocide.
The American Committee for Syrian and Armenian Relief was founded in 1915. Spokane's first fundraising drive in the fall of 1917, led by the Spokane Ad Club and the city's Jewish community, worked to raise money to aid Jewish refugees in Eastern Europe. Donations and pledges were solicited door-to-door at home and work.
The Spokane Ad Club sponsored an auction on October 31, 1917, during the dedication of Glover Field. Businesses and individuals donated an eclectic array of items to be sold, including clothes, glasses, filled apple boxes, $15 worth of dental work, a doll, a gas stove, and a 6-cylinder Stevens-Duryea car. People gave what they could. Mary Hurd of Connell knit a pair of child's mittens for the sale because, in her own words, "I, too, want to help." Another large drive was held the following July.
Noted Speakers Visit Spokane
Many noted speakers visited Spokane to raise money for Near East Relief during this time. Often speaking at churches and schools, these included missionaries and Armenians. The missionaries had spent many years in the Near East. Rev. Clarence Ussher had survived the Defense of Van, sheltering refugees in his home.
Several Armenian speakers also came. General Mesrop Azgapetian, who had served the Persian Shah before joining the Russian Imperial army, toured the country for Near East Relief. In January 1920, he addressed a prayer meeting of Spokane's Central Methodist Church before addressing Lewis and Clark High School and North Central High School the following morning. He then spoke at a Rotary Club luncheon.
Notably, Aurora Mardiganian visited Spokane in February 1919. A genocide survivor, she accompanied showings of the film "Auction of Souls." Based on her book, she starred in the movie. She gave speeches attending its twice-daily showings at the Auditorium Theater for five days. The weekday matinees were women-only, where she could speak to them "in confidence to the ladies attending as only one woman can speak to other women."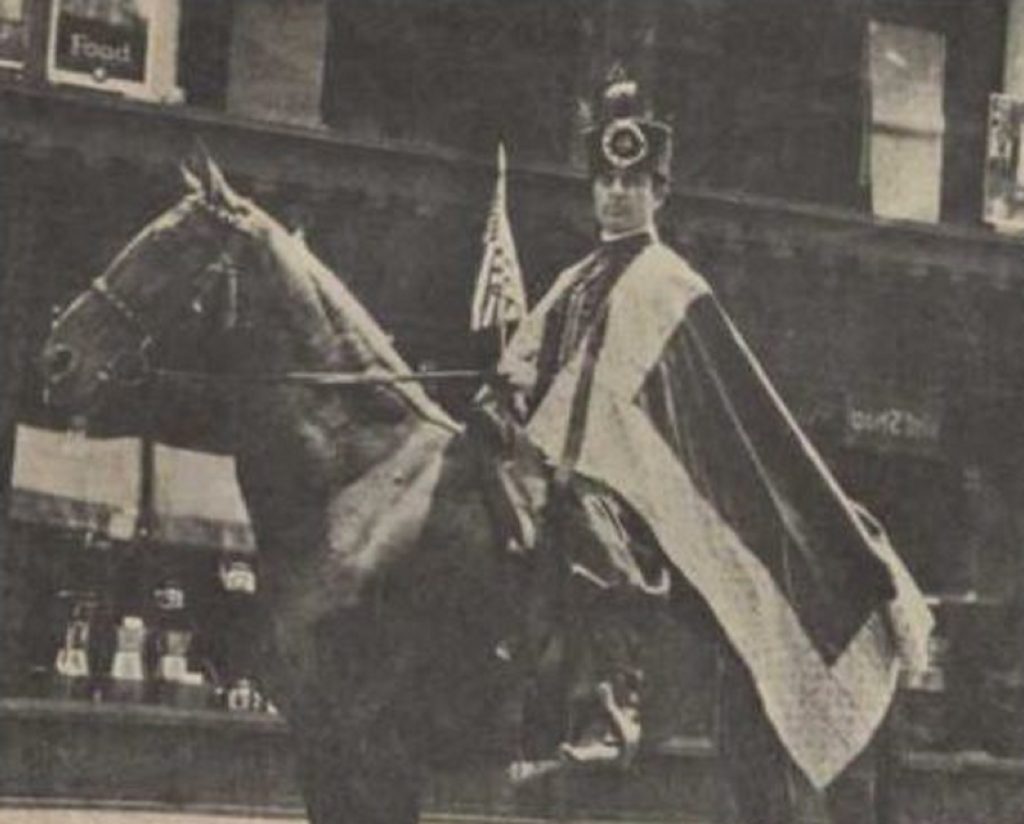 Armenians in Spokane
A small number of Armenians were living in Spokane at this time. Michael Krikorian, an "Oriental rug" weaver, sold rugs and gave demonstrations at the Whitehouse store in 1909. In 1917 Aram Cartozian took charge of the Oriental rug section at The Crescent department store. He operated a network of rug businesses throughout the Pacific Northwest with his brothers.
Cartozian became an American citizen in 1915. Challenges to his brother, Tatos' 1923 application in Portland led to a Supreme Court decision that secured citizenship rights for Armenian Americans. Returning from serving in France with the AEF, Aram's nephew Megr Kirishian joined him at The Crescent. They founded their own store in 1921, which continues today as Kirishian Imported Rug Co.
With family and friends in danger, local Armenians were active in Near East Relief. At the 1918 4th of July parade, Spokane Armenians sponsored a float with Near East Relief slogans. Armenian children rode on the float, and Meshach Krikorian, dressed in national costume, rode on a horse. In February 1919, a group of 75 local Greeks and Armenians gathered at Crate Cafe to raise money.
Often misidentified as brothers in newspapers though unrelated, Armenians Meshach Krikorian and Samuel Krikorian worked as Spokane-based field secretaries for Near East Relief. Both were Church of Nazarene missionaries. Meshach's father had been killed during the 1909 Adana massacre, and both lost many family members during the genocide. Together and separately, the two men gave frequent speeches, often in national costume, across the region at churches and clubs. The two managed a relief booth at the Interstate Fair in 1918 and spoke at the Crate Cafe meeting. When Meshach spoke at the St. Paul's Methodist Church in February 1919, Nuvere Cartozian, Aram Cartozian's wife, dressed in traditional clothing and served Armenian coffee and candy.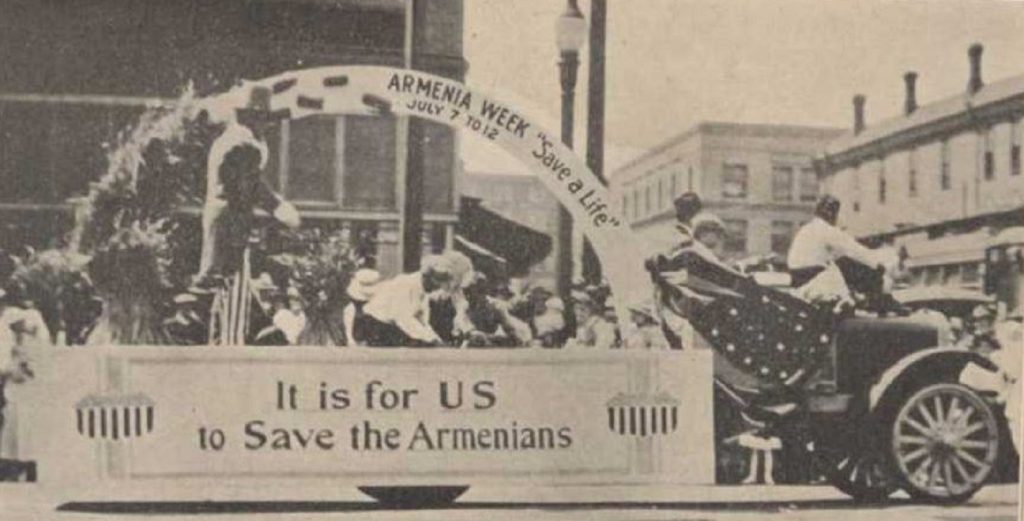 Legacy of Near East Relief
World War I officially concluded in 1918, but the war did not end in the Near East. Churches held Golden Rule Sundays throughout the 1920s to raise donations. Public schools and church Sunday schools had Christmastime drives. Spokane held a "Bundle Day" clothing drive in 1921. People brought used clothes for refugees to schools, churches, and fire stations.
While Spokane's donations to the Near East tapered off during the Great Depression, the Near East Foundation, as it was renamed in 1930, continues its excellent work in the region today, including Armenia.