The beloved city of Spokane is often referred to as a gathering place for the entire region, and anyone who knows the Lilac City well can understand why. For decades the city has been an area where curious minds are encouraged to thrive and a welcoming hub for those who have traveled far and wide. Talented artists and musicians are around every corner, and even inspired chefs to come from all over to join in the diversifying mix, each giving back just as much as they receive from the place we call home.
One local non-profit restaurant and catering company, Feast World Kitchen in Spokane, has become its own home for former refugee and immigrant chef-entrepreneurs who have traveled to the city to make a new start.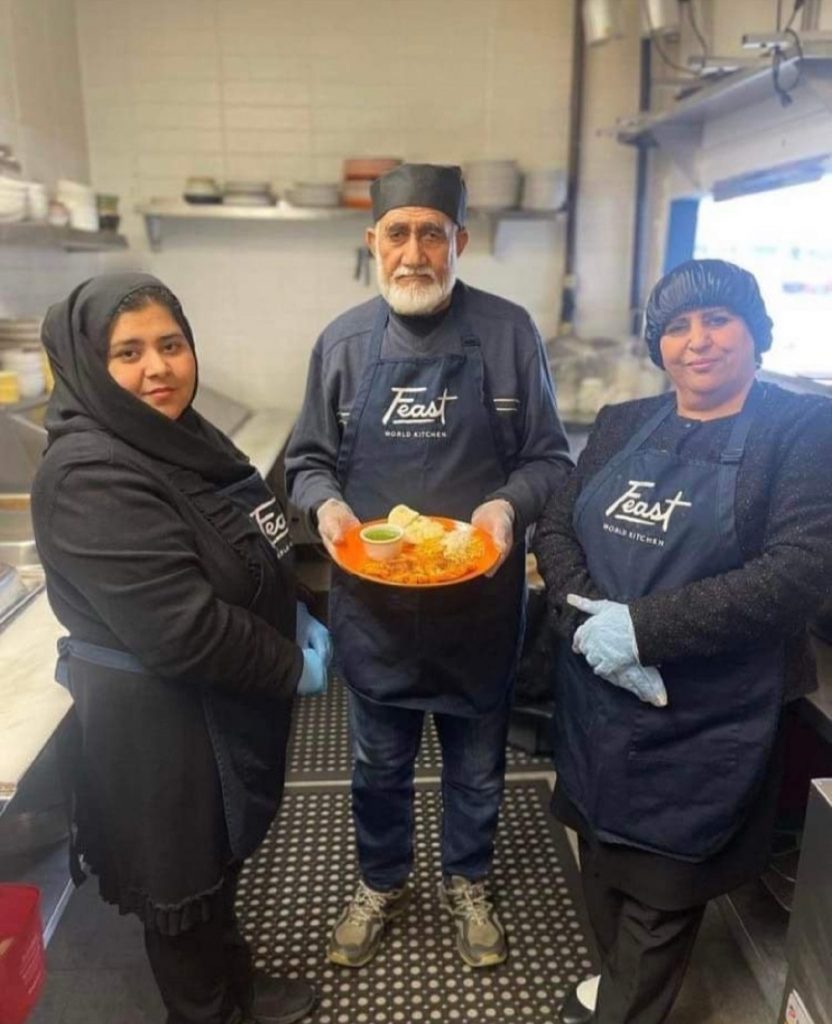 Feast World Kitchen Makes Spokane a More Delicious, Hospitable Place to Live
Feast World Kitchen's vision is for every immigrant and former refugee living among us to experience welcome and inclusion from the greater Spokane community and to have the opportunity to achieve their fullest potential as a diverse group of entrepreneurs. To make this vision come to life, they have created a one-of-a-kind non-profit restaurant and catering company featuring a rotating group of former refugee and immigrant chef-entrepreneurs.
"We really want to create a message of Spokane being a welcoming community, and we want Spokane to experience the beauty of what different cultures bring to our community as well," said Ross Carper, co-founder and executive director of the non-profit that started in 2019.
Carper and a few neighbors, both local and from around the world, came together and realized they had a few things in common. They all shared the conviction that Spokane should welcome former refugees and immigrants, weaving them into the fabric of our civic life. They also all believed that food has a wonderful way of bringing people together and breaking down barriers. Lastly and simply, they all agreed that Spokane needs more great global cuisine!
Thus, they launched Feast World Kitchen, an incubator space to empower immigrant chefs.
"We saw an opportunity to create a kitchen for former refugees and immigrants to share their culture and accumulate job skills that could be helpful while getting settled in the states," Carper explained. "While at the same time giving Spokane a chance to experience their food and culture in a welcoming environment for all."
At Feast World Kitchen, the chefs have a place to share their flavor and customs from their original home traditions, all while building career skills, earning a great income, and building community connections.
"Many of our chefs want to work in the food industry as small business owners and things like that," explained Carper. "So, our goal is to provide them a space where they can work toward those dreams while developing the skillsets they'll need to accomplish them, all while gaining exposure in the community."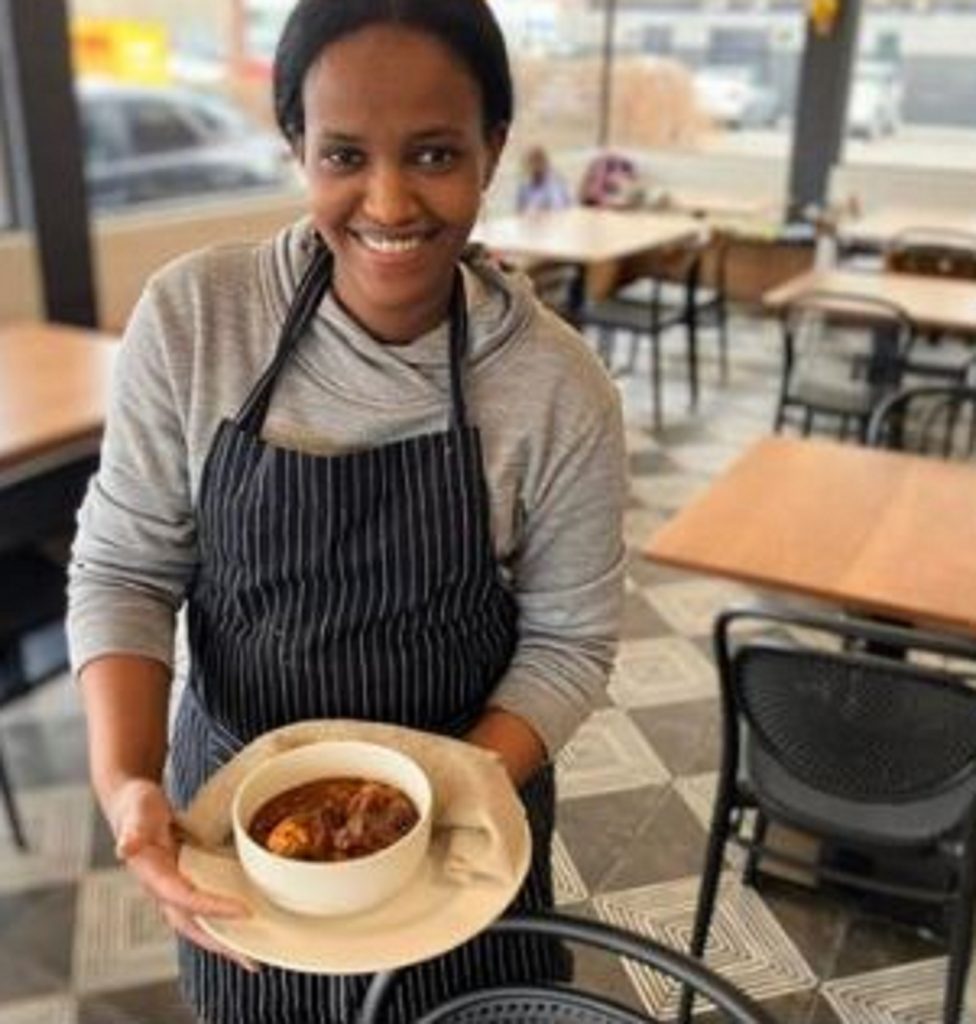 Experience Food from a Different Culture Every Day at Feast World Kitchen
To give everyone a chance to showcase their food and culture, Feast World Kitchen operates on a rotating menu with a different chef working every day through their Wednesday through Sunday operating hours. They post the restaurant menu each Monday by 5:30 p.m. on their website for the upcoming rotation so that patrons can get excited about their favorite chefs on the days they're there.
"Most of our chefs have day jobs in other fields while they work toward their culinary careers," explained Carper. "This is why we assign them a specific day to come in and share their food with the community."
With this rotation, the kitchen fulfills its mission to elevate and empower immigrants and former refugees, all while spreading its message of mutual hospitality.
"It's all about the hospitality," said Carper. "We want to offer hospitality to immigrants and former refugees in our city and give them a chance to return that hospitality and build connections within the community when people come in to dine with them and try their food."
In addition to cooking up delicious food for the day, the chefs can also be hired for catering through their Feast Catering program so their international cuisine expands beyond the kitchen walls.
During their day at Feast, the chefs plan their menu, prep, cook, serve, then clean once the day is done. For all their hard work and dedication, these entrepreneurs earn the lion's share of their revenues, with over 90 cents of each dollar earned going back to the chef, or in some cases, the family, that cooked for the day. With this supplemental income, Feast World Kitchen witnessed the chefs accomplish their dreams of home ownership, further education, and opening their own small businesses. Ultimately, it all leads to flourishing, both for the immigrants or former refugees and Spokane.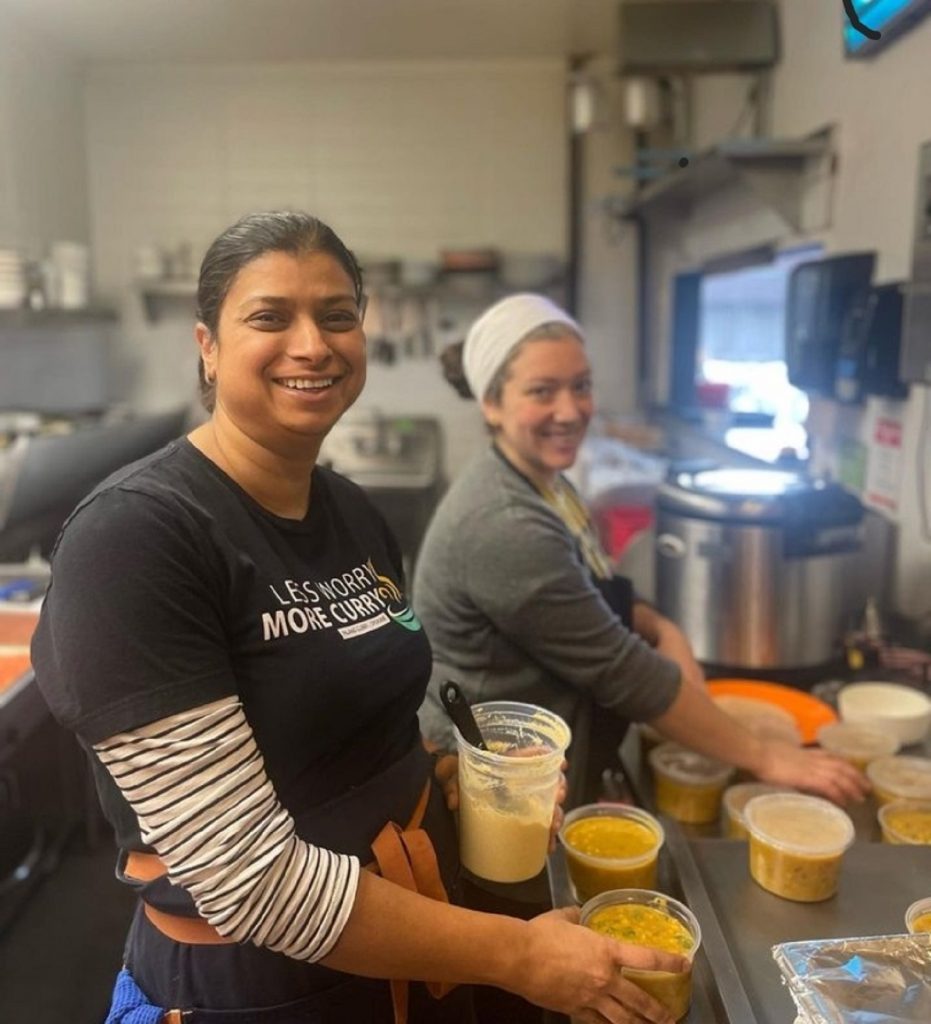 Every Thursday is Inland Curry Night
Before co-founder Dan Todd partnered with Carper to develop Feast World Kitchen, he had launched Inland Curry in 2017, a weekly pop-up carryout spot at 9th & Walnut. It would become the business that started it all and an integral part of Feast World Kitchen as every Thursday, Inland Curry rents out the space to whip up fantastic international dishes.
Before its opening, Todd spent five months helping his good friend Pete Hicks at Sandpoint Curry. After the experience, he decided to try the same weekly take-out model in Spokane with his new carryout spot. As Inland Curry evolved, Todd hosted an international dinner series featuring guest cooks from Spokane's refugee and immigrant communities in 2018. The practice was a huge success, allowing them to offer Nepali, Afghan, Kenyan, Peruvian, Kurdish, Jordanian, and Syrian cuisines.
This online-order pop-up take-out model would shape how they operate Feast's program with other immigrant chefs learning the job and small business skills.
Eventually, Todd sold Inland Curry to Noreen Hiskey, a local Indian chef, food photographer, and blogger, in August 2020. She has since become an integral part of the team and a resource for chefs who spend the day at Feast World.
"She's a mentor to them," said Carper. "They look up to her because she's a small entrepreneur, just like they hope to one day be, and she's an amazing resource who's more than happy to share her knowledge and teach them everything she knows about getting started in the business."
The Impact of Feast World Kitchen
Inland Curry, as its anchor tenant, has helped Feast World Kitchen offset its costs and allow them to focus on its mission to celebrate and empower immigrants and former refugees and reduce community tensions through education, storytelling, and meaningful cultural exchanges.
In a few short years, the non-profit managed to bring the community together joyfully around food, a universal language we're all well-versed in, and provide opportunities for flourishing with our neighbors from around the world.
"So far, we've worked with over 80 families in our kitchen. Probably an additional 50 have cooked for Feast Catering," said Carper. "We're excited to continue growing."
Their other impact numbers from the past seven years are equally impressive. Hungry customers have enjoyed 31,143 meals via their restaurant and catering programs, with Feast chef partners paying out $343,755.07 in food sales revenue. Seventy-nine percent of the chef partners who have cooked for Feast World have been women, and over 30 chefs have engaged in business training events since joining the program. Volunteers have also served 1,448 hours with Feast World in an amazingly overwhelming response to a need within the community, helping with things like food, office help, facility projects, cleaning, and more.
"It's just a hub for community," said Carper. "There's a lot of pride and fun in sharing your favorite dishes and a way for people from all backgrounds and cultures to connect. Food can bring people together, and we're proof of that here at Feast World Kitchen."
They're excited to bring even more amazing flavors and chances for others to experience international cuisines from around the world, all while helping more former refugee and immigrant chef-entrepreneurs fulfill their culinary dreams. They've rolled out a wholesaling program where some of the chef's items, like desserts and entrees, can be purchased at local supermarket Huckleberry's Natural Market. They've also rented a second space to build out a kitchen for production and for Feast chefs to eventually offer cooking classes so they can share how to create their favorite dishes.
Those looking to join the cause can volunteer in the kitchen or donate to the expansion. Chef-partner opportunities at Feast World Kitchen are also listed online for immigrants or former refugees interested in sharing their cuisine.
Anyone looking to expand their taste buds and experience authentic dishes from these outstanding chefs can visit Feast World Kitchen Wednesday through Sunday during their special operating hours.
Feast World Kitchen
1321 W 3rd Avenue, Spokane
509.608.1313
Wednesday: 11 a.m. – 2 p.m., 4 p.m. – 7 p.m.
Thursday (Inland Curry): 11 a.m. – 2 p.m., 4 p.m. – 7 p.m.
Friday: 8 a.m. – 11 a.m. open for coffee, 11 a.m. – 2 p.m. lunch, 4 p.m. – 8 p.m. dinner
Saturday: 11 a.m. – 2 p.m., 4 p.m. – 8 p.m.
Sunday: 11 a.m. – 2 p.m., 4 p.m. – 7 p.m.